New Teacher Spotlight: Elizabeth Dopke
This school year, Conant has nine new teachers. Seeing as most students won't be introduced to them in the typical way, the Crier is providing short features on each. Today, we would like to introduce Elizabeth Dopke, a new Spanish teacher from the World Language department.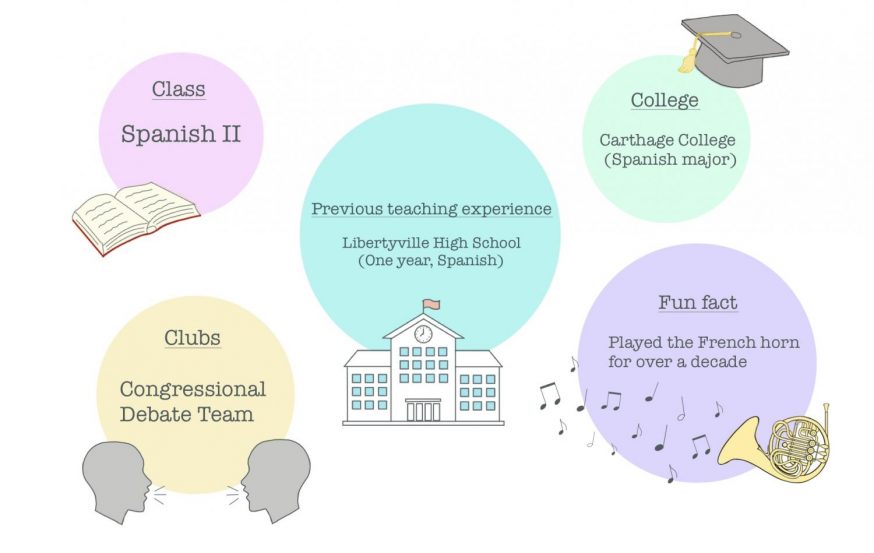 Kana Nagoya | Conant Crier

Crier: What are you passionate about?
Dopke: I'm super passionate about Spanish. A lot of my free time is spent listening to Spanish music and watching Spanish documentaries and TV. Aside from Spanish, I love to bike ride. I'll go biking all the time. Also, I have a dog named Hazel, a miniature dachshund who is two years old, and I spend a lot of my time with her. I also love to read. I do read Spanish books, but when I want to zone out, I read science fiction fantasies. My favorite book is "Harry Potter." The first book of the "Harry Potter" series got me from day one, and it was great.
Crier: What is something interesting about you?
Dopke: I have visited seven different countries. Some were to study Spanish and to live there, but others were not related to Spanish. I went to many countries to play the French horn in orchestras.
Crier: What kind of orchestra groups have you joined in?
Dopke: I played in a semi-professional community orchestra when I was living in Argentina, and studied at a music conservatory in Japan at college.
Crier: How has it been working at Conant?                                         
Dopke: Remote learning is an adventure. This is nothing like I've ever imagined, but overall it's going okay. I have some really awesome students in my classes, and they're super fun. I try to talk to my students a lot about relying on the process of things, especially with language learning, but I think it's going just as well as it can right now.                                           
Crier: What is one thing that you keep in mind when you teach students? Does your mindset change when teaching remotely?
Dopke: One thing that I definitely have in mind is how I felt when I was in my first or second year studying Spanish. My teacher was talking in Spanish, and I didn't understand a thing she was saying, so I always try to remember what that felt like when I was in the very beginning. That hasn't changed between remote learning and being normal in the classroom. Also, I try to use gestures and act things out to help them understand. But in terms of changing my teaching style from in the classroom to online, I think the most I've tried to do is to make things succinct and clear. I try to make sure that we have a set schedule and goal for the day, and we know what we're doing. 
Crier: Why should students take world language classes?
Dopke: I would say number one, because they're fun. We learn about other people, cultures, music, foods and traditions. Everything from dances to movies to cultural customs are things that are super interesting, and it's a nice break in your day from a science or a math class. Those classes are important and good, too, but it's nice to branch out and learn more about other cultures. Plus, you get to have twice the amount of friends, because once you start speaking the language, you can reach out and meet more people from other countries and in your community. 
Crier: What do you expect at Conant, or is there something that you're excited about?
Dopke: Right now I'm very excited to see my students in the classroom. That's number one. I've been having some fun online, but I think we would have a lot more fun in-person. I'd also like to see a Conant football game. I want to see the whole school come together on a Friday and feel that energy.
Crier: What's something that you've regretted through your high school experience? Do you have any advice for students?
Dopke: When I was in high school, I was very quiet and shy. I didn't really take part in as many activities as I could have and maybe should have. My advice for high school students is that this is your time to step out of your comfort zone and branch out.
Crier: Do you have any messages for the students?
Dopke: I would always encourage students to take a language if you have time in your schedule because you can do so many cool things with it. Even if it's just watching movies with subtitles or listening to music, that's fun. Come on by the world language department. We're a fun group of people!