Senior class of '23 snapshots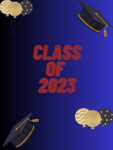 Jamie Okulanis | Conant Crier
Prom, Senior Breakfast, Graduation. Seniors are almost done with their time at Conant High School, ready to close out their legacy of being high school students. To commemorate their journey coming to an end, Crier staff gathered quotes from seniors about their thoughts and memories on leaving Conant.
Giancarlo Fregoso
I made so many great memories at Conant during my high school years, and time flies so quickly that I'm gonna be in college in the fall. I'm going to Harper for two years then to NIU for my other two. High school was a fantastic time and crucial to find my identity. I advise future high schoolers to make every moment count.
Isabella Rodriguez
It feels surreal as if it wasn't only three years ago starting out as a freshman. My favorite memory was building the softball shed in geometry in construction with all my classmates. I'm going to college to study for pre-med.
Alexandra Chagoya
I'm excited to leave high school but scared not knowing what to do after because I'm undecided about what I want to do. Taking culinary arts and early childhood studies were fun memories I had along with the people I would hang out with. I'm planning to go to Harper College to study business for two years and then see what to do after that.
Gio Mazza
I'm actually really scared. [Leaving Conant] has been something that I've thought about for a long time, and it's actually so close now. I'm sad to say goodbye to high school. Some of my favorite memories were going to some of my favorite classes and having fun with my friends. I'm going to miss all the Conant dances. Those are fire! I'll continue acting and playing the violin. I can't imagine life without high school. It's a place where you experience everything. You learn so much about being the person you want to be. If anything, I want to live the rest of my life like how I lived in high school.
Dani Acosta
I'm a little scared [about leaving], but also really happy to start my life. I enjoyed meeting new people and creating memories with them. [After high school], I'll go to college and live my life. To the seniors, next year, live your life to the fullest and make memories because it'll soon be over in a flash.
Nick Paszternak
I enjoyed broadcasting football and basketball games, making films, and meeting people that I wouldn't normally talk to. I'll be attending Harper College for my Gen Eds, then transfer to a four-year. Meanwhile, I will be working and creating content for my YouTube channel. Don't let anyone hold you back for who you want to be.
Andrew Filby
[Leaving Conant] is scary because change is uncomfortable, but just a part of life. I enjoyed being in the theater, doing photoshoots, creating art, and going to get coffee during the late start days before Covid. I'm going to the School of the Art Institute of Chicago for Fine Arts.
Casey Judge
I think high school graduation feels similar to 6th-grade graduation. I think my entire time at Conant is memories that are worthwhile. I am going to a university after high school. I think if you look back at your memories with any sort of penitence or regret, then you aren't living to the fullest.
Dennis Cejvan
I'm excited for college, but sad to leave all of my friends behind. My most worthwhile memory was playing for the graduation ceremony right in the center of the NOW Arena during my junior year. I am majoring in Computer Science at the University of Iowa.
Roshni Patel
It is scary leaving here and going somewhere bigger and being away from friends and family, but I'm also excited to start something new. I enjoyed the football games and just getting to see my friends and have fun with them. I'm going to UIUC and majoring in biology/pre-med.
Sam Wagner
I'm glad I got to attend this school for my last two years, but honestly, I'm ready to be done with school.I enjoyed hanging out with friends, prom, and homecoming. I'll be attending Harper.
Nawab Ali
It's bittersweet. It's great that I'm moving on in life and I'll get to experience something completely new and continue to shape myself as a person, but I'm gonna miss being a high schooler. It's sad thinking that I might not talk to some people I've met after high school, but I'm really grateful that I've met them. I don't have any specific memory, but generally, it's just being with two of my really close friends. They definitely were the people that made high school more tolerable. Without them, I think my high school experience would be way worse than it was. It was great getting to know new people almost every year, but those two really were the ones that I really got to know through both good and bad. It sucks that a lot of people you know now are ones that you'll maybe never talk to again. However, they were part of a really important four years of your life and in one way or another brought you to where you are now. Take a moment to appreciate those who you've met and become friends with before you walk the stage.
Avery Serna
I'm going to miss the experience that I had while being a high school student, but I am looking forward to what is to come after leaving. I enjoyed playing for Conant Soccer and developing new friendships with many different people. I plan on attending Harper for two years, and from there I would like to transfer to a four year to continue my studies.
Aahana Goswami
[My favorite memory was] definitely the time my Astronomy class went to the Adler Planetarium. The Planetarium was boring, but the Chicago River was beautiful. I plan on going to a four-year college.
Reema Patel
I'm sad to leave the people I grew up with but definitely excited for a change. I feel like any classes that I had a good relationship with the teacher were good. I also will never forget Freshman year at Hoco because it was pretty fun for me. I'm going to study Speech and Hearing Science at UIUC.
Lauren Fricke
I am sad about leaving Conant because of the great bonds I have created here, but I am also happy because I cannot wait to experience college. I had a lot of fun at the post-prom. It was fun because all the seniors had their final dance together. I plan on going to Carroll University and majoring in Exercise Science.
Kiera Friesema
Bittersweet, at this exact moment I'm excited to leave the unnecessary drama behind! Each memory I have at Conant led me to be the person I am now. I'm not done learning about myself, but each memory is proof I can overcome hardships and turn out okay. I'm going to be attending Loyola to study Spanish! I really hope to study abroad in Spain. I will miss this school, but I am so ready to move on to the next part of my life.
Milcho Haralanov
I'm kind of scared to start college because I got into so many high-ranking positions that it might be hard to balance with school work. All of my visits with Mrs. Ray and the adventure gym class were probably the most fun I've had in gym class in a while. I'm going to be going to Germany with my German class and after that probably prepping for college and sleeping.
Steven Hristov
I'm glad to leave high school and start a new chapter of my life, but also sad because I'll be leaving all the people I've come to know over the past four years. [For memories], just spending time with those who care about me. Meeting great teachers and school events like prom was something that I also see as worthwhile memories. I'll be attending Harper College and then transferring to a four-year university, majoring in some sort of engineering. The four years spent here had their ups and downs, and I now look forward to starting a new era in my life.
Erick Tello
I'm going to miss some of the fun memories and assemblies we had as a school. [My favorite memory was] having a swimming unit right before spring break in 2020. I'll attend Harper for two years then transfer to a university for my final two years of a bachelor's degree.
Natalie Spaitis
My current thoughts on leaving high school are that although I am going to miss the relationships with my friends and faculty here at Conant, I am ready and prepared to start my life somewhere by furthering my education at Tusculum University. The memories I made during class and in extracurriculars are the ones that I will cherish the most. Having fun with my friends and teachers towards the end of the year are memories that I will never forget. The friendships that I made in Conant basketball and softball will be something that I will continue to look back on and remember because of all of the hard work that my team put in to earn our victories. My plans after graduation are to attend Tusculum University to study sports science. My goal is to become a physical education teacher because of my passion for education and learning. I will also be playing softball at Tusculum and I hope to create a strong impact on the program.
Gabby Guerrieri
I'm ready to move on and start a new chapter of my life. [My favorite memory was] playing on the varsity soccer team and attending all the school dances. I'll be attending the University of Iowa and majoring in Communications. I'm excited to graduate!
Jacob Oh
I'm excited to move on, but I am sad that I have to leave behind friends and family. I enjoyed being involved in clubs and activities. I'm going to college at Loyola University Chicago studying Computer Science.
Andi Vanden Boom
I have been looking forward to this moment since freshman year. I am so excited to get out of high school. When my transfer was accepted, and I got to tour the school for the first time and meet the administrators, it felt like a breath of fresh air. I'm going to OKSTATE! Go Pokes!
Pooja Thaker
I feel fulfilled because I've learned my lessons and everything that I kind of needed to learn. I think it's all done now, so I don't have any bad thoughts about leaving high school although it's going to be hard as this is my comfort zone, but we will see what the future holds for us. I enjoyed my junior year, the games, and also just having fun! I'm going to college! Everything happens for a reason and it looks like my time to leave has come, which is sad, but I'm going to miss Conant so much!
Natalia Macher
Excited and nervous for what's to come. Being part of the Principal's Advisory Board and feeling like my input mattered was my favorite memory. I will be attending the University of Illinois Urbana Champaign and studying kinesiology because I want to eventually become a pediatric physical therapist.
Anthony Santangelo
I'm happy, but also sad that I actually won't be coming back in the fall. I enjoyed the football games, all the dances, and a lot of my classes. I'm going to the University of Kentucky for finance and to play hockey.
Rachael Deerfield
It's bittersweet! I've created a lot of memories here and built a lot of friendships. I don't want to lose my friends but I know it's time for us to move on in our journeys. [My favorite memories are]: 1. Homecoming and Prom, 2. Operation Snowball 3. Being in Mr. Hastings' class, 4. Being in Mr. Grana's class, 5. Going off campus with my friends, 6. Football games (FNL), 7. Managing the JV baseball team. I'm going to Illinois State University.
Julia Hajduga
I'm excited. Hopefully no more waking up at 6 in the morning. Plus, I'll get a lot more freedom in college and will be able to do and go pretty much wherever I want. I'm in theater, and all those memories are very precious to me. Whether it's the naps we have after all-day shows, the silent dances we do backstage, or even being on stage and having fun with my friends.
Maria Kolimbiris
I'm excited since I will be moving on to college, but I am also a bit sad since I've had so many fun experiences. I enjoyed decorating the art hallway for Homecoming and watching school games, and assemblies. The student activity room always has fun activities during lunch that I enjoy with my friends. I will be majoring in Art Education at Illinois State University.
Sean Martin
[I'm] excited for a new chapter in my life. The best memories were the ones that I made with the people I have grown so close to and will never forget the times through the ups and downs of my high school experience. I'm going to become a teacher to express the importance of teaching to kids all over the country.
Mohammed Fawwazuddin
The four years I spent at Conant were filled with great memories and meaningful moments that I will never forget. These years gave me a purpose in life and a reason to continue with my dreams. I will miss all the staff and friends that I got to know. I remember going to football games, participating at I-Fair, and hosting events during Ramadan. I will always remember staying after school with my friends and just hanging out at restaurants, in the car, or just walking around. I'm going to university. I'll miss Conant, especially the people that made my time at Conant worthwhile. Definitely enjoyed my time at Conant and wish the rest of the students to enjoy their time at Conant before graduating!