Signing off: Thank you, Conant Crier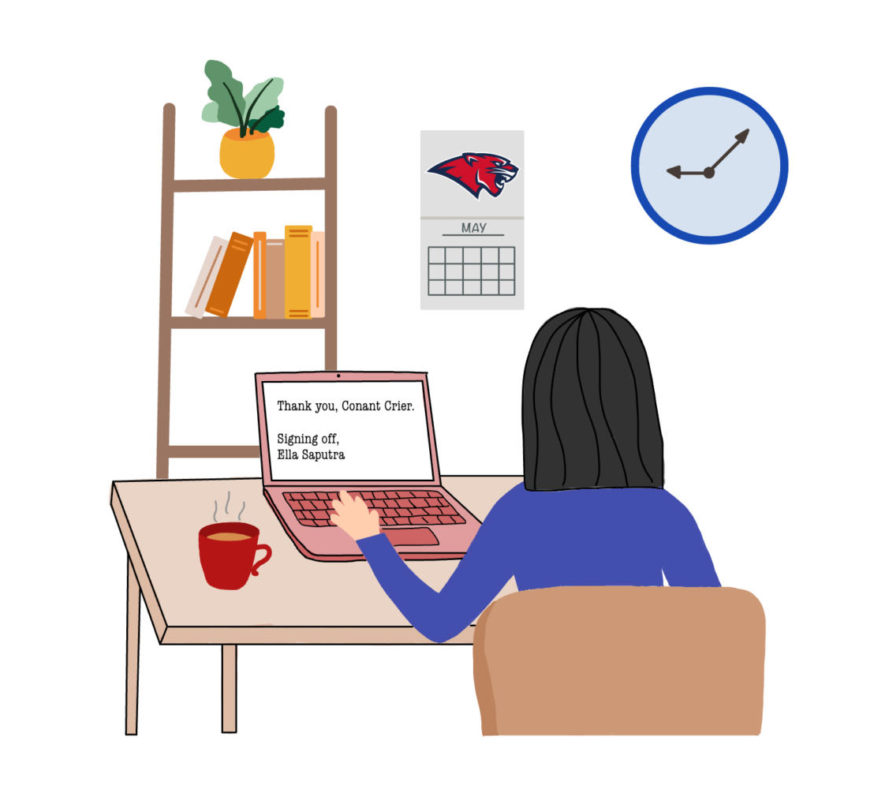 Ella Saputra | Conant Crier
As the 2022-2023 school year draws to a close, it's hard to believe that my four years at Conant and as part of the Conant Crier staff are coming to an end. When I first stepped into the Crier office during the second week of my freshman year, I was intimidated by the pack of upperclassmen on the floor and on the couches surrounding the whiteboards filled with scribbles. But over the last four years, Crier has become a second home for me during my time at Conant. 
At the end of my freshman year, I decided to apply for the Editor-in-Chief position. I figured it would be a long shot, but, to my surprise, I received an email that summer letting me know I had received the position. My responsibilities as Editor-in-Chief for the past three years have prompted me to grow by challenging me intellectually and pushing me to become a more mindful member of the community, and my involvement in the Conant Crier has been one of my most rewarding and fulfilling experiences at Conant. 
Firstly, I would like to thank my advisers, David Gwizdala and Kathryn Sall, for believing in me and taking a chance on an eager sophomore to lead the Crier. Their mentorship has endowed me not only with indispensable editing and writing skills that I am forever grateful for, but has also taught me so much about the importance of reflection and being cognizant of the world around me and how to lead a team effectively. The Crier office fosters a sense of belonging and a welcoming environment thanks to their warm personalities and unwavering support for the student staff and student journalism. 
I would also like to thank my current and past co-Editors-in-Chief Ria Patel, '23, Johanna Selmeczy, '22, and Diya Patel, '21, and all the wonderful editors and staff members that I have had the privilege to collaborate with. It has been my pleasure to be able to work with and get to know them all. The student newspaper would not be possible without their dedication to and enthusiasm for Crier. 
In addition to a weekly fix of Goldfish and Cheez-Its, Crier meetings have provided me with a space that encouraged me to learn more about the community around me, articulate my thoughts, and to freely express my own ideas. During my time on the Crier, I've had the opportunity to talk with a variety of individuals, from sexual assault awareness activists, to thespians, to the school's foremost athletes, on topics that matter to them. I am so grateful for these meaningful interactions that have offered me new perspectives and helped me forge a better understanding of the people in my community.
I will sincerely miss the Conant Crier community and coming to Crier meetings every Wednesday after school. It has been such a joy to work with such genuinely wonderful and thoughtful individuals in creating a platform for community discussion and a place for the voice of the student body. 
Thank you, Conant Crier.
Signing off,
Ella Saputra '23