A comprehensive guide to lip balm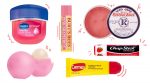 Futo Wada | Conant Crier
With the ongoing, cold winter weather comes the inevitable: chapped lips. While undoubtedly an inconvenience, it is something that can be easily treated. With the right products, your chapped lips can be cured and moisturized. We've provided a review of some popular lip balm to help you determine which one is right for you.
ChapStick Brand
An oldie but a goodie, the traditional ChapStick brand products do not fail to get the job done. You can never go wrong with a classic, twist-up lip balm. It comes in various flavors ranging from strawberry to seasonal treats, such as pumpkin pie, so there is bound to be something that will appeal to you. However, a downside to this product is that it typically requires frequent reapplication; the formula does not seem to have long-lasting effectivity.
Burt's Bees
Looking to support an environmentally friendly company? Burt's Bees practices sustainability and creates great products in doing so. Their lip balms are formulated from all natural ingredients, such as beeswax and essential oils, that provide long lasting moisture. The ingredients are claimed to be conscientiously chosen so that the formula for each lip balm can be as effective as possible. The natural flavors, such as vanilla bean and grapefruit, are a nice addition to the already satisfactory product.
Smith's Rosebud Salve
This may possibly be the most refreshing lip balm I have ever used. The Rosebud Salve lip balm provides everything you could ever want in a lip product: moisture, tint, scent. The formula is smooth and goes on beautifully with a subtle red tint. A blend of essential oils creates a pleasant refreshing scent, similar to a combination of mint and rose. The best part about the Rosebud Salve is its versatility. It can also be used as a moisturizer to relieve dry, irritated skin on lips, elbows, and knees.
Carmex
While some people may think of this as "their dad's lip balm," Carmex is a lifesaver when it comes to severely chapped lips. It is a medicated lip balm, so this product is perfect for when your lips need to properly heal. It contains ingredients such as menthol and camphor that soothe and protect your lips while also relieving pain. The medicated formula provides a nice, cooling sensation upon application. Although it may not have the nicest scent, Carmex is an essential for the treatment of chapped lips in harsh winter conditions.
Vaseline Lip Therapy
You can never go wrong with a classic. Being a multi-use product, Vaseline is just as good a lip product as it is a skin moisturizer. Vaseline Lip Therapy provides the same moisture as the traditional product, but with added perks such as flavors and tints. With a simple formulation of petroleum, it leaves lips feeling smooth and shiny. For this product, the best application time is definitely before bed because it allows your lips to absorb the thicker-formulated product overnight. While the simplicity of Vaseline almost never disappoints, its consistency is similar to lip gloss, so there is the unfortunate chance of your hair getting stuck to your lips.
EOS
This product's unique design brings a fun and unique twist to lip care. Similar to Burt's Bees, EOS practices sustainability in the choice of its ingredients, such as shea butter and beeswax, to create an effective, moisturizing formula. All of their products are also hypoallergenic and dermatologists tested, so this may be a good choice if you tend to have sensitive skin. The only issue is its shape– the round lip balm tends to bulge in purses, making it a bit impractical to carry around.