Develop habits to create a positive lifestyle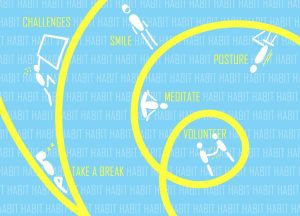 Futo Wada | Conant Crier
Through life, we've developed certain habits that we learned along the way. Sometimes, these habits can hurt, rather than help us.  Due to our busy schedules, we often stop prioritizing ourselves and fall back into detrimental habits, forgetting that we need to take care of ourselves, too.
But not all habits are bad. Some can help motivate you, relax you, and enable you to develop a more positive lifestyle.
Here are some new habits to try out:
Volunteer
Everyone is busy, so while you may have barely any time for yourself, helping others can have its own sense of achievement. From helping in the local hospital to packing bags of food in an organization's building, there are many volunteer opportunities to sign up for in our area, so don't be discouraged if the first opportunity doesn't turn out to be your preference. To start off, you can try out the websites for Amita Healthcare or Feed My Starving Children.
Meditate
Despite popular belief, meditation is not simply about sitting down and attempting to maintain a blank mind. Meditation is the isolation of yourself and your mind from the general matters of life. An easy way to get started is to attend Conant's morning mindfulness sessions every Wednesday and Thursday at 7:50 a.m. in the multi-purpose room. Alternatives to meditation include exercising, walking through nature, writing in a journal in order to keep track of your emotions of the day, coloring mandalas, and listening to music based on your current or desired emotions.
Challenges
It is said that when the brain falls into a routine, the brain often completes tasks in "autopilot." The brain is more lethargic in autopilot, especially when dealing with newer information; however, this can be remedied by regularly challenging the mind. Challenges can refer to merely trying new things or completing tasks that were previously forgotten. These tasks could include reading new books, baking new recipes, eating a variety of cuisines, or walking alternate paths throughout the day.
Take a Break
With overwhelming workloads, people often forget to prioritize themselves. However, by thinking that taking a break is another chore of cleaning up and organizing life, it is often misunderstood. Taking a break is the simple act of doing something for yourself. Taking a break can involve spending more time with pets or indulging yourself with presents such as massages and naps.
This list certainly doesn't include every beneficial habit in the world. Here are some other habits to consider:
Check your posture once in awhile. (Can't have your spine breaking, right?)
Enjoy the sunrise/sunset (if not for yourself, then for that Instagram-perfect photo).
Talk positively. (Speaking ill of someone can only make you feel ill about yourself.)
Smile. (Even when you're not happy, forcing a smile flexes the muscles around the mouth. This creates neural impulses that travel to the brain and enable the brain to feel happiness.)
Invest time in hobbies. (This does not mean extracurricular activities. While they are often fun, the extra activities often become an obligation that creates stress. Instead, find some free time for voluntary, joyful activities.)
Dress in the way you see fit. (The only opinion that matters is yours. If you don't think that you look good, then you won't feel good about yourself.)
It can be difficult to find the time to do something new, but discovering new habits can be uplifting, too. Try out new things once in awhile, and you'll be sure to see some positive results.
Have you tried incorporated any habits that made your life better? Leave a comment about your experience!