Easy cucumber rolls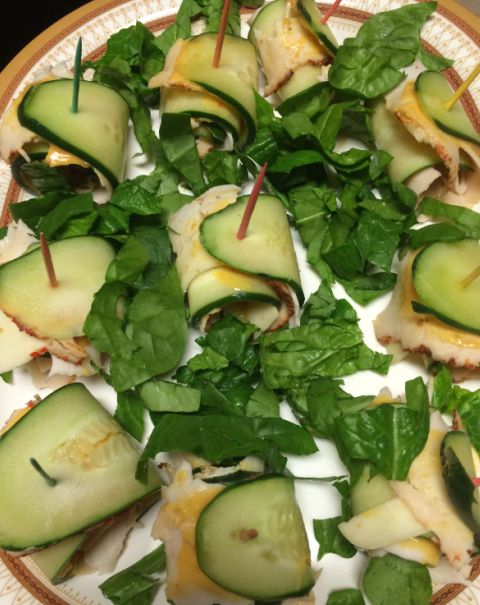 Every year, Americans make New Year's resolutions, but only 8% keep them. Losing weight or getting fit is an especially popular resolution, but it's easy to lose steam. However with this simple cucumber rolls recipe, eating healthy will become a piece of cake— and will taste just as good without the fattening calories! Impress your family and friends with this delicious appetizer and enjoy them all year round.
Prep Time: 30 minutes
Cook time: None
Makes: 20-25 appetizers
Difficulty: Easy
Ingredients:
1 long cucumber
Thinly sliced deli meat of your choice (I used a garlic and herb chicken breast)
Thinly sliced cheese of your choice (I used pepper jack)
Southwest Spicy Mustard
½ cup of spinach (optional)
Extras:
Toothpicks
Slicer
Procedure:
1. Wash the cucumbers and cut them in half, lengthwise. Then slice them into long thin pieces.
2. Take a small amount of the Southwest Spicy Mustard, and spread it along the slices of cucumber.
3. Next, cut the deli meat into small strips and place them on top of the mustard. Repeat this step with the cheese.
4. Carefully, starting from one end, roll up the cucumber slice and stick a toothpick through to hold it in place.
5. Put all the pieces on a tray and garnish with finely chopped spinach, and enjoy!
Be sure to tweet your creations @conantcrier and leave a comment for future recipes you'd like to see!