Happy library "Shelfie" Day!
With over 4,000 tweets, #libraryshelfieday means book worms are taking over Twitter. On the fourth Wednesday of January, book lovers take pictures with their favorite bookshelves. Crier asked the Conant librarians to take a "shelfie" and share what they love about the Conant library.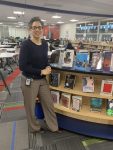 Judith Lopez, librarian, said her favorite part of the library is talking to the students about books all day. "I can't believe I get paid to do this," Lopez said. 
"Playing games with students, recommending books, purchasing new books, working with classes, all of it is so engaging," she said.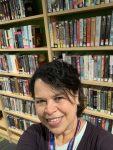 Rosanna Schmitt, Media Assistant, said, "My favorite part about the library is when we get new books in and students are waiting to see what books they are going to get once they hit the shelves."
Lopez is currently reading "The Silence Between Us," and Schmitt is reading "The Perfect Candidate." Both books are available in the Media Center. Next time you're in the library, thank the Conant Media Center staff and ask what new books they have to recommend.