New Year, New Superintendent: Meet Dr. Small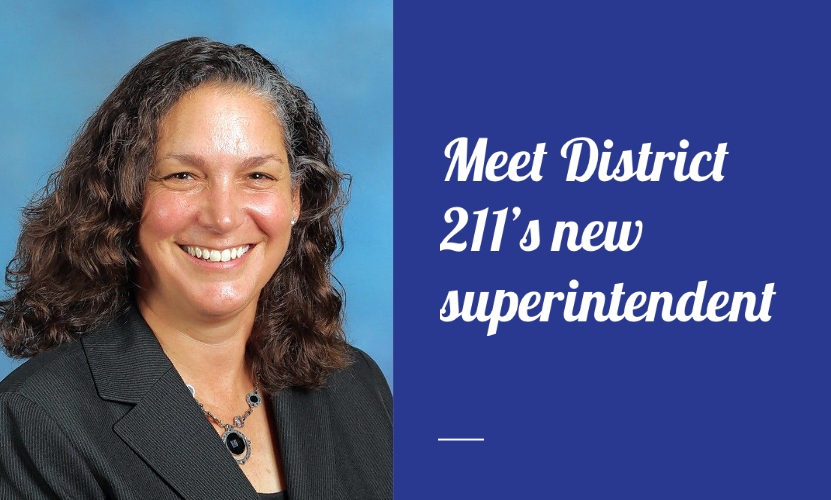 Dr. Lisa Small, Associate Superintendent of Curriculum and Instruction, has been named the next District 211 superintendent, replacing Daniel Cates upon his retirement. After a five-month search in and outside of the district, the Board of Education promoted from within. Small is the sixth superintendent out of the last eight to be hired from inside the district. 
Small was a teacher at Adlai E. Stevenson High School in Lincolnshire before ultimately entering District 211 in 1992 as a science and math teacher at Hoffman Estates High School. Small has held her current position in the district since 2014. 
Small knew she wanted to be a teacher in high school, but she initially wasn't sure what kind. 
"I said, I wanted to teach, and [my counselor] said, 'What do you want to teach?'" said Small. 
"I had every department in front of me, and I went to the science and math classes, [then, my counselor] looked at me and said, 'Well, isn't it obvious?'"
Small then pursued a degree in biology education at the Ohio State University and her master's degree in curriculum and instruction from Northern Illinois University. While in college, she realized she wanted to teach high school students. 
"I actually went in and taught in urban settings, in rural settings, and in suburban settings. [I was teaching] all different grades," she said. 
Small said that by the time she was done with her junior year of college, she knew she wanted to teach high school math and science.
While teaching in District 211, Small enjoyed designing unique math and science curricula. Her favorite was implementing a forensics unit into her freshman biology class over twenty years ago. Small also coached girls volleyball. Angela Drenth, current Conant Family and Consumers Science teacher, was one of her players. 
Small shifted from teacher to assistant principal at Hoffman Estates High School in 2000, starting her career in education administration. However, her interactions with students didn't end. 
"When I was an assistant principal at Fremd, I was also the Activity Director. [There] it was really fun [collaborating] with faculty and students to design our assemblies," said Small. "We tried to make every assembly very unique."
After being an assistant principal at Hoffman Estates High School and a principal at Fremd High School, Small obtained her current position as associate superintendent. Her work primarily focuses on the innovation of career pathways, dual credit courses, and advanced placement curriculum. 
Small wants students to ask themselves about why they are pursuing their course load — especially the ones stacked with AP and dual credit courses.  
"What are you trying to accomplish? [Ask yourself, are you trying to] get ready for college, earn college credit early, or is it something you're passionate about?" said Small. "If you can't answer why, take something else you really like."
As a part of the district's instructional team, Small helped curate an all-encompassing pathways program.
"If you see across the 16 pathways, every broad-based career option is represented," Small said.
"[High school] is where you find out what you like and what you don't like. I hope students [in our district] have the confidence to move forward with new experiences." 
Right now, District 211 has released phase one of its career pathways system. Small hopes to continue building this initiative as superintendent and plans on integrating mental health and wellness programs into their next phases. 
Small will also visit all five District 211 high schools in the spring. She plans to meet with faculty and current students to help make the district better. Small intends to gain a better understanding of topics like mental health, college and career planning, and technology in the classroom directly from the people experiencing it. 
Outside of work, Small enjoys spending time with her animals. She and her husband live on a small farm, where they house animals like hogs, chickens, llamas, alpacas, horses, and even bees.
Daniel Cates, District 211's current superintendent, and Small are sharing district responsibilities until July. When Cates retires, Small will absorb all responsibility for the largest high school district in Illinois. 
"People often forget our district has 12,000 kids in it, that means every year we're sending 3,000 18-year-olds into the world," Small said. "It's really cool to have a hand in helping all those kids."