Save time and money with these last-minute holiday gifts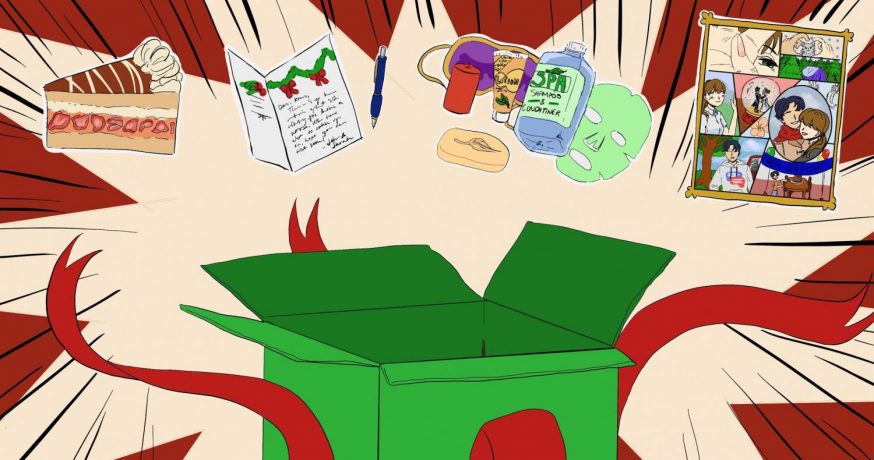 Margaret Zhang
December is one of the most festive times of the year; with the many holidays, winter break, and decorations, people seem to always be in a cheerful mood. It is also a time to show gratefulness for the things we have and the people we love. Gift-giving is a great way to show appreciation for our loved ones, but can undoubtedly be a stressful task. Whether you are running out of time or ideas, here are some simple holiday gifts that can be perfect for anyone.
Desserts
The holidays give us the perfect excuse to bake treats and sweets to celebrate good times. It is a great opportunity to learn how to bake new goods and incorporate traditional winter flavors like peppermint, cinnamon, caramel, and sugar into seasonal treats. From holiday cookies to decadent fudge, the options are endless.
After baking the treat of your choice, there are several ways to wrap desserts for gift-giving. For example, wrap the treats in plastic wrap and tie them off with ribbon. Place them in a basket and finish it with a bow at the front of the basket. Another option is to place the dessert in a box and cover it with gift wrap. This is not the typical way to gift desserts, so the person receiving it will get a sweet surprise (pun intended).  
Handwritten Notes
In the 21st century, text messages are the easiest way to communicate. Even emails seem like extra work. While typing out a long text message can still show appreciation, nothing beats the feeling of receiving a handwritten note. Your handwriting will add an extra touch of love. Notes are something that are usually only written for special people, and can be personalized to anything you want. There are several card and note ideas on websites like Pinterest and Tumblr. It's the feeling you give the person that counts, not the amount of money you spent on their present.
Photo Collage
Another personalized gift for friends and family is a photo collage. Capture some of your favorite moments together and put them in a collage. Pic Collage and PicsArt  are two easy-to-use apps for collage making and photo editing. The text feature can be used to write a quote, an inside joke, or a simple phrase. This present is an indication that there are more special memories to come!
Care Packages
Help the gift receiver relax by constructing a care package for them. Everyone likes to take time for themselves and feel stress-free. Whether it's a collection of things to have a perfect spa day, or a movie night, care packages are effortless to make. Facemasks, blankets, candy, and sweet-scented candles are among the various items you could put in them. These are easily customizable, making them an easy last-minute gift.
The most important thing about giving people presents is your intention behind it. Whether it's small or big, the person you give it to will appreciate your gesture. Let the holidays be a time to cherish moments with the people who mean the most to you by showing them how much they matter with these simple gifts.