A snapshot into Conant's new media center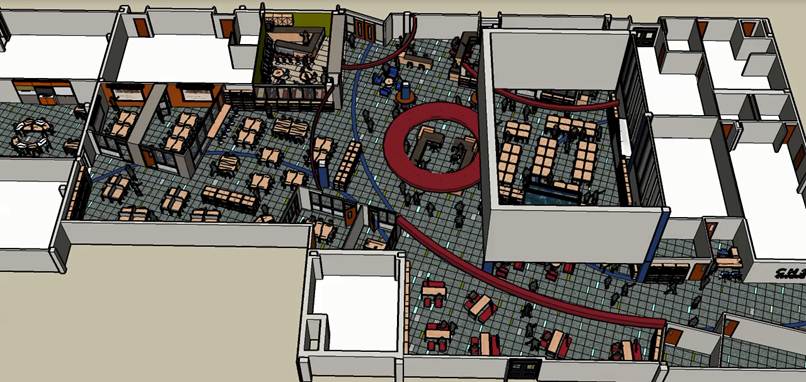 After almost half a year of extensive renovations, the Conant media center will be completed around Thanksgiving break. 
Dr. Robert Small, assistant principal of building and grounds, said the new library will have an emphasis on comfortable spaces and new furniture for student collaboration. In addition, there will be more areas to charge iPads and it will include a 635-gallon freshwater fish tank. The space will be brightened with a fresh coat of neon orange and green paint, and the computers and books will be less prominent due to the new focus on iPad technology. Moveable walls have been designed to divide the new space into sections that can be adjusted when desired.
According to Small, a juice bar with booth-style seating is being added so students can have a relaxing place to eat and work. It will most likely be run by various student groups over the year, but the exact menu and pricing hasn't been determined yet. It also will contain two vending machines, one for snacks and one for drinks.
"There will be a conference room for first period and other classes can rent it out," Cindy Taylor, head librarian, said.
The total budget for the project was $700,000 and was funded mainly through normal property taxes. However, Small noted that the aquarium costs were covered entirely through fundraisers by Student Council, Booster Club, and the 2015 senior class. 
It was superintendent Daniel Cates who ultimately decided to give Conant's library an upgrade. Small said that Cates "was looking to modernize the district's libraries. Schaumburg's was already finished, and we were next in line."
The decisions on how to design the new library was a collaborative effort. Small said, "Mr. Kim [technology coordinator and media department chair] ran some focus groups with students last year to see what changes they would like to be made." 
This is where the idea to add the fish tank came from. Taylor said she helped pick out furniture, specifically the materials and color scheme for them. Companies Arcon and Dirtt also aided in finalizing the design plans.
In an effort to save money, the district has their own crew of workers on the project. Small said that it would have cost three times the current budget if they had outsourced the project. Now that the school year has started, work has slowed down to prevent noise complaints.
The packing of the books began in mid-April and the construction started at the beginning of May, during which time the library was closed for students.
The closure remains as the final changes continue to be made. Some students have been frustrated by how long the process has taken. Sophomore Sarah Yamaguchi said, "I now have to do my work in the cafeteria or atrium, which is loud and distracting."
However, other students think the wait is worth it. Sophomore Bianca Saputra said she is looking forward to seeing the improvements in the new library.
As for future changes at Conant, there are a lot ideas on what should be done next. Taylor said, "Even when the library is open to students, it will still be a work in progress. I need to play around with the tables and chairs, and where everything fits best."
Small said that while this was the last big project currently planned, eventually he'd like to add a commercial kitchen for the culinary classes in family and consumer sciences, make a ticket booth in the auditorium, and redo the gym locker rooms.
When these enhancements are completed, many more students may reap the benefits of having a fittingly contemporary library and study space.