Conant celebrates Illinois' bicentennial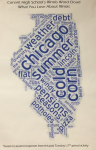 Hannah Blesson | Conant Crier
Social Studies National Honor Society (SSNHS) helped Conant celebrate Illinois' Bicentennial last week. The week kicked off with a video about Illinois history and a quiz testing each classroom's knowledge on Illinois and ended with a Kahoot during lunch periods with Illinois trivia.
Social Studies Department Chair and SSNHS sponsor John Braglia said, "The SSNHS students decided to commemorate the Bicentennial to recognize our great state, and all of those things that make it unique from other states."
SSNHS started planning this week at the beginning of the year. Although Illinois actually had its 200th anniversary in December, SSNHS decided to move the celebration to March due to various events happening in December.
This week was unique to Conant, as it was the only District 211 school to recognize the event. SSNHS Media Relations Manager Dominic Pontrelli, '19, said, "No other school is doing something like this. I think it's important to reflect on our history and appreciate it, and it's also just something cool to leave a mark in the school."
While this week was meant to be fun and educational for the students, SSNHS hopes that students recognize the privilege of living in Illinois. Charter Member Isabella Griesmaier, '19, said, "I hope that they'll be able to appreciate the state that they live in. It doesn't matter where you live, it's always good to know all that you can to inform yourself to be a better citizen because it'll only benefit you in the long run."