Academic Awards ceremony changed to before-school breakfast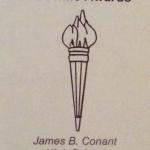 The program for the Academic Awards ceremony has been changed to a before-school breakfast. The breakfast replaces the formal evening ceremony and is designed to be more informal and cause fewer conflicts with after school activities and students' jobs. It will take place on Aug. 31 from 7:30 am to 8:10 am.
Any student who earned an unweighted grade point average of 3.5 prior to the 2017-18 school year is invited to attend the ceremony. Students were invited to attend via email.
The evening event used to included attending a second-hour rehearsal and inviting friends and family members to attend the ceremony that evening. The evening ceremony included speeches by faculty members, and students received their class numbers and letters.
However, the evening event posed many conflicts for both students and their parents.
Principal Julie Nowak said, "The second hour rehearsal paired with time conflicts was creating a stressful situation for families when it's meant to be celebratory."
In order to fix this problem, the event was moved to the morning. This decision was because of both staff and parent feedback.
Nowak said, "A lot of parents said it was about the children and having it as an evening event wasn't always the best thing."
Amy Rodriguez, '18, agreed. "It's definitely more convenient than the evening one with sports and activities."
The event will now take place in a decorated and roped off section of the cafeteria.
Nowak hopes that seeing the event take place will encourage students who didn't receive the award last year to try and get it this year.
Students will check in by receiving their certificates. In addition, students will have the opportunity to get chevrons, letters, and numerals.
Faculty are also encourage to attend the event, and some will even be participating in it. However, parents are not allowed to attend.
The new program will be more informal, and students, who are not required to stay the entire time, may come and go as needed.
Nowak said, "I had to think about transportation, which determined that it could be more of a fluid celebration."
Isabella Griesmaier, '19, said, "I prefer the casual atmosphere of the breakfast much more than the evening event."
After the event is over, Nowak will collect feedback from both staff and students who have attended both the evening and breakfast ceremonies. The responses along with cost and attendance will determine which of the two will happen next year.