Students access valuable resources at Conant's Health and Safety Fair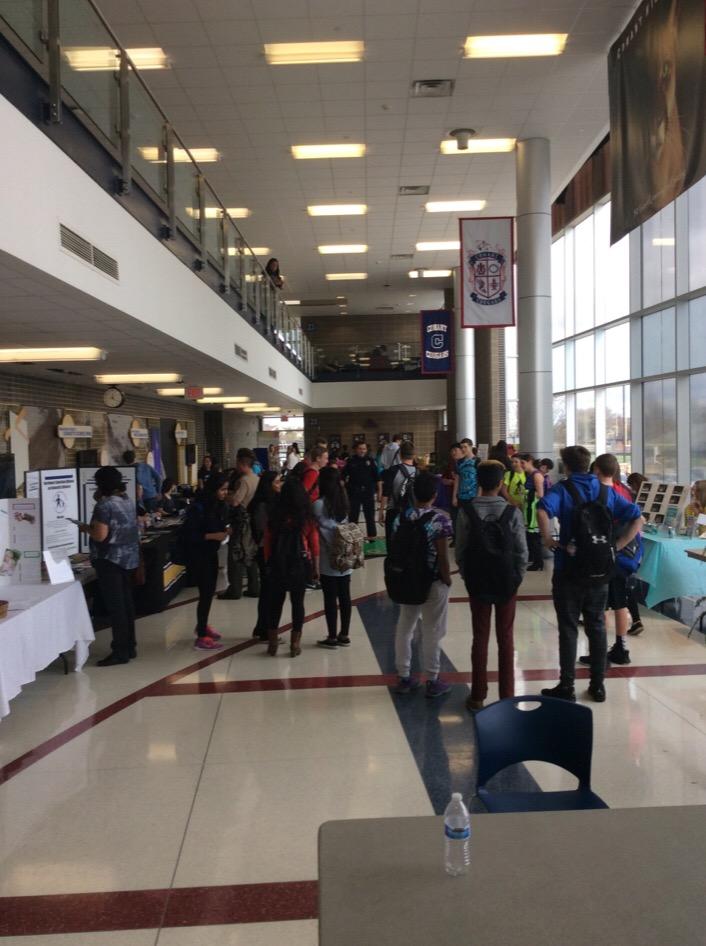 Conant held the 7th annual Health & Safety Fair to promote responsible teen decisions and to provide support for struggling teenagers.  On Friday, April 1, organizations including the Kenneth Young Center and the Hoffman Estates Police Department were in attendance to give students resources to help them through issues such as teen pregnancy and depression.
Officer John Bending and Officer Joe Kruschel of the Hoffman Estates Police Department attended the event to show the importance of not drinking and driving. They provided drunk goggles for students to wear and play a game of bean bag toss to emulate similar effects while under the influence of alcohol.
In regards to underage drinking, Sherrine Peyton, a community organizer from the Kenneth Young Center, represented Communities for Positive Youth Development (CPYD), which is a coalition of community partners who share the common goal of positive youth development, including a lifestyle free of alcohol, drugs, and other substances. A subcommittee of CPYD called the Youth Advisory Council is made up of students from all across District 211 and meets once a month and conducts many community events for a positive youth lifestyle, such as a Baby Shower for teen parents April 23 at the Trickster Native Art Gallery.
A representative from the Gateway Drug and Alcohol Treatment Center, the largest rehabilitation center in Illinois of its kind, also provided information about the facilities for students who have or know people who have alcohol or drug addictions. She said, "I'm here to let people know that we are here to help and there is a solution to this problem." She encourages students to visit the organization's website or one of the nine treatment centers across the state. Local locations include Lake Villa, Aurora and Chicago.
Representing Teen Parent Connection (TPC), Health Education intern Shannon Retzel discussed teen pregnancy. TPC helps young mothers and fathers confront challenges and provides them with support, information and resources that will help them navigate their lives as parents and teenagers.
The organization also offers many services such as weekly group meetings for young parents, being with the parents at the hospital during birth to help them with the process and Prevention Education. Retzel said, "We are here to offer our services to students at the school who may be teen parents and let them know that these services are available." Visit the TPC website here.
In addition to accessing the resources of many representatives, students could play games and raffles to win items like t-shirts, gift cards and bags. It was a busy event, and students received numerous resources for issues prominent in the Conant community.
Be sure to click the links above to learn more about certain organizations and the issues they represent.