Conant juniors start club to mentor children in developing countries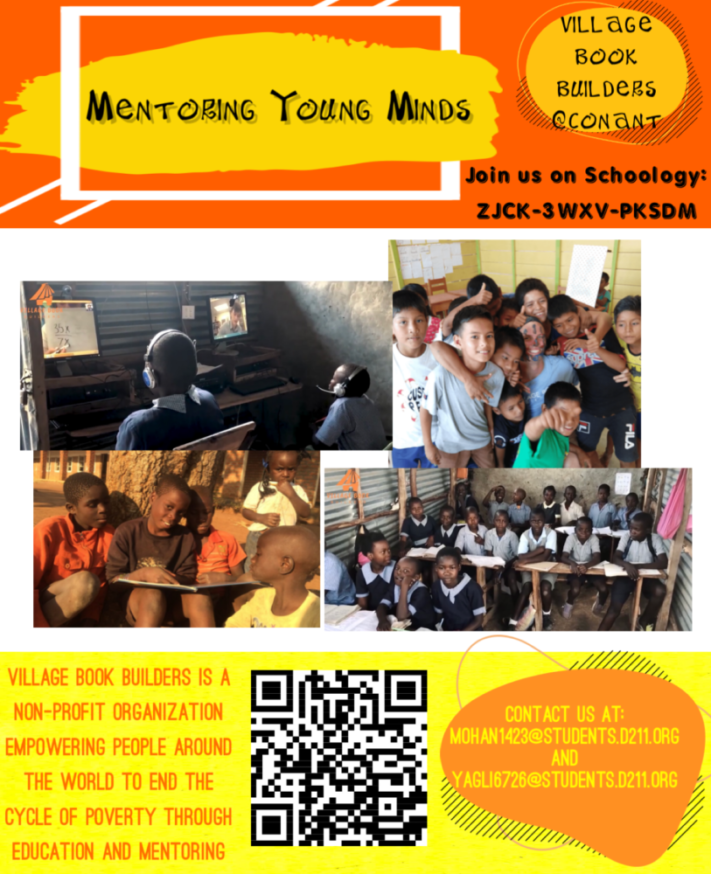 Flyer courtesy of Mentoring Young Minds
A new Conant club called Mentoring Young Minds will provide students with the opportunity to mentor children in developing countries. Mentoring Young Minds is a chapter of Village Book Builders, a non-profit organization empowering villages in poverty through education and an online mentorship program. At Conant, it is currently a branch of Interact Club. 
Prisha Mohan, '23, and Melike Yagli, '23, started the club. "We wanted to bring Village Book Builders to Conant to spread awareness about how kids in third world countries don't have the same access to education opportunities as we do," Mohan said. 
Students will mentor an assigned student one-on-one in the subject of math, reading, grammar, or science for one hour weekly through Zoom. There are no requirements for students to join this club. 
"We would love for students who have an interest in guiding other students to success, value the importance of worldwide education, and are ready to take on the role of a mentor to join," Yagli said. "We encourage students who have a passion to help others to join Mentoring Young Minds."
Mohan is currently volunteering in Village Book Builders as a mentor and has found the experience fulfilling and rewarding. "I have gained the opportunity to build connections with students in Uganda, Kenya, and Nepal. This wonderful experience has pushed me to become a better student and mentor myself," she said.
During club meetings, students will register into the Village Book Builders mentorship program and engage in workshops to find teaching resources, collaborate with other mentors, and prepare to engage with their mentees. 
Yagli hopes that the Mentoring Young Minds will inspire mentees and lead them on a path to success. "We hope that by educating younger students, we can provide them with tools and resources to have access to greater opportunities and lead them to dream bigger," Yagli said. "For the club as a whole, we are confident each student will be able to positively impact their mentee by furthering their academics, self esteem, and perseverance."
Biweekly meetings will be held after school at 3:30 PM in room 111. The first meeting will be held on Wednesday, March 16. 
Students interested in joining should join the Schoology page using the group code ZJCK-3WXV-PKSDM, or contact Mohan and Yagli at [email protected] and [email protected].