Hack Club hosts hackathon, 'CougarHacks'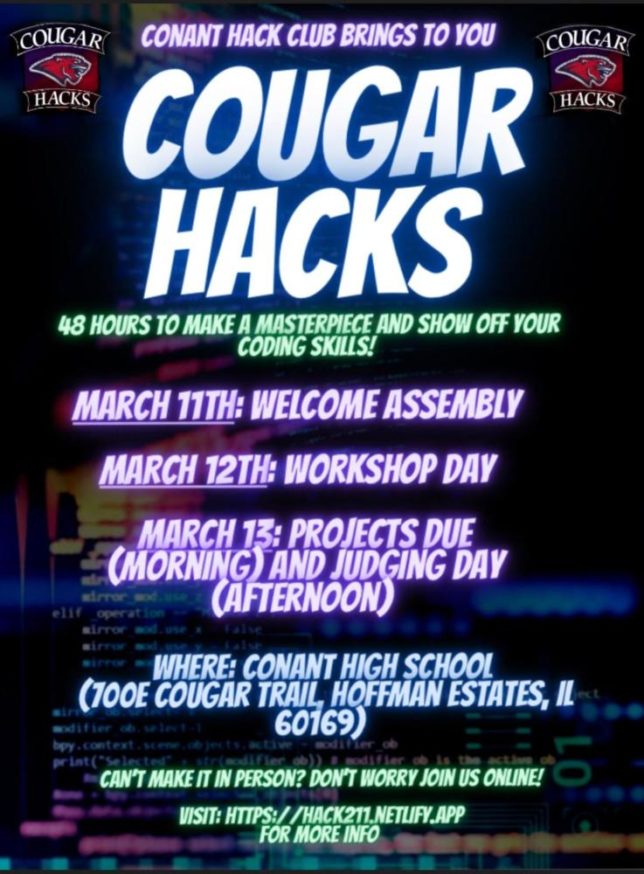 Conant's Hack Club is organizing its very first hackathon: CougarHacks. The hackathon process includes everything from coming up with a project idea to the strenuous debugging stage, in which coders are given the opportunity to learn new things and create projects.
A hackathon is a competition in which people have a set amount of time (usually one to three days) to code a project. Participants are able to join the hackathon either alone or with a team of up to four people. At the end of the competition, projects are judged and prizes are given out based on categories such as best solo hack, best team hack, and most unique.
"Hackathons have been really important for my development as a coder," Soham Gupta, '23, said. "So I definitely think that it is a worthwhile experience." 
Participants don't need to know how to code, since the hackathon will include workshops. "Participants of CougarHacks can attend workshops during the hackathon where specific technologies are taught to both beginners and advanced coders," Ronit Anandani, '22, one of the lead organizers of the event, said. "Topics anywhere from Python to Machine Learning are explored and taught in these workshops, and with fellow students teaching these workshops, participants can freely ask questions and learn from each other."
CougarHacks will last from March 11-13 (two days to create the project and one day for judging), and participants will be able to attend either virtually or in-person. Participants don't have to stay through the entire event and are able to pick and choose what workshops they would like to attend.
"I encourage anyone interested in technology to check out CougarHacks and see what they think of it for themselves, and hopefully have fun with it. Remember, everyone has a chance to win prizes," Anandani said. 
Find out more information about CougarHacks at this website and video.