Conant water drive to help crisis in Flint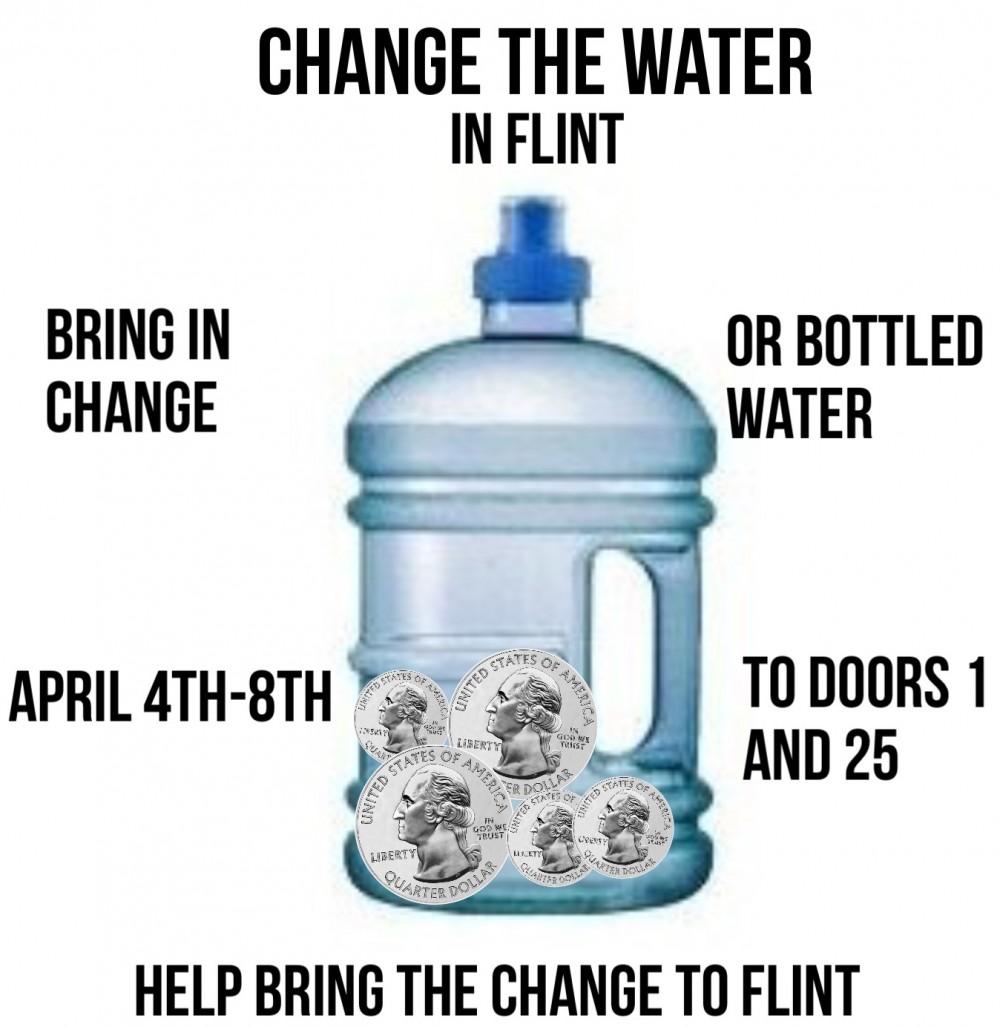 In a combined effort between Presidents' Forum, Student Council, district administration and Cougar Service Club, the "District 211 Water 4 Flint Bottled Water Drive," also called "Compassion in Action," kicked off on Monday, April 4. The drive is meant to help those impacted by the water crisis in Flint, Michigan, where the water has been deemed unsafe to drink because it is poisoned with lead and other toxins.
Pictures of Flint's water show that it is murky instead of clear and underscore why Flint is asking for donations of water that is safe to use and drink.
Throughout the week, cases of water should be brought to the cafeteria during lunch periods or to Door 25 on Wednesday before school, where Stuco will be collecting the water. Teachers and faculty can also participate in the drive by bringing in water to the cafeteria. Donations will then be picked up and delivered straight to Flint.
On Monday, students entering Conant received informative flyers, explaining that lead poisoning is irreversible and causes hair loss, brain developmental issues, comas, seizures, anemia, kidney dysfunction and sometimes death. The water crisis has permanently impacted the lives of Flint's 100,000 residents in the span of two years, 40.1% of whom are living in poverty.
Due to this crisis, District 211 pledged to raise 21,100 bottles of water, with each school in the district needing to raise about 5,000 bottles of water. As junior Tommy Zanichelli put it, "The water drive is a district-wide event hoping to make a difference in a community that needs some help." He added that many of the clubs in the school are helping out in some way.
Conant's website is also encouraging people to "show compassion for those in need" and to "find out how one bottle of water can help others" by supporting the drive.
According to David Moravek, student council adviser and social studies teacher, "If every student in the district brings in two bottles of water, then the district can surpass its goal."
To see how much progress Conant has made towards its goal, check out the donations in the cafeteria or the giant water bottle on the wall at Door 25, which will be updated at the end of every day of the drive. As of the end of the first day, 866 bottles of water had been collected, and 12,538 bottles had been collected district wide.
Isabella Griesmaier, a freshman, said, "It's a wonderful thing that our school is involved with such a good cause. It's weird to think that the people of Flint have to ask for something we take for granted: clean water."
Learn more about the drive and the Flint water crisis by checking out the video made by D211 students here.
To find out what you can do to help the people in Flint click here or here.