Crier Inquires: how have you been adjusting to remote learning?
Before school began, many students were prepared to attend school in a hybrid environment. However on Monday, August 3, Superintendent Lisa Small sent out an email stating that all students were to begin the school year by connecting to their classes remotely. As the first month of school comes to an end, students and teachers discovered that remote learning was not the same as last year's e-learning. We asked students and staff: How have you been adjusting to remote learning? Have you faced any issues? Did something surprise you about the process?
Bryce Loeger, '24 (no photo)
Remote learning hasn't been the easiest, and it's not the ideal way to start off your high school experience, but us students have to work with the situation.
Abhay Paidipalli, '23 (no photo)
I've been learning to manage my time better and prioritize certain things so that I can better adjust to remote learning. The only issues I've faced are technical ones with the internet, but none other than that. I was surprised at how easy I was able to learn through remote learning as I initially thought it would be really difficult.
Johanna Selmeczy, '22
Adjusting to remote learning has been difficult. It's been a challenge to stick to a routine and stay motivated with everything going on. Already my internet has cut out in the middle of math class and I had to scramble to rejoin which was panic-inducing, to say the least. I also have three dogs and they bark at anything that moves, so it can be tough to focus sometimes. I would say that the most surprising thing I've seen so far is the incredible adaptability and patience from the teachers, just because I know that they have so much going on in their own lives. To couple that with being responsible for so many kids every day is awe-inspiring. I'm glad that virtual learning is the method of education that was settled on, although I miss being in school, because safety should always be the number one priority.
Hannah Large, '21
With March's events and a several month-long quarantine, I haven't had many issues adjusting, especially tech-wise. Everything has been going smoothly, but the aspect of not being able to talk to and bond with peers and teachers is something that can't be replaced on Zoom, and that's something I'll struggle adjusting to. As an outgoing and talkative person, I'm certainly having issues connecting to classmates. I hope we can find ways to feel more comfortable in a remote school environment as I have been (and I'm sure other students are) struggling to do. The most surprising moment I've had was being told that teachers know as much as the students in this situation. This whole process and all of its abnormalities, I think, will continue to surprise us. No one really knows what to expect or what's coming next.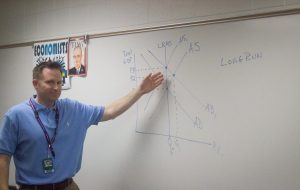 Maggie Jakopac, File Photo
Mr. Stewart, AP Macroeconomics teacher
I think we all knew it was going to be different and it's definitely a challenge. Mrs. Nowak has worked tirelessly to make sure everything is ready and getting school going. The staff also spent a lot of time getting things ready for school. The first step is figuring out what you are going to do and the second part is how is this going to work. I'm trying to keep this as simple as possible and that is a challenge on its own because every class at Conant has different challenges. Social studies classes can be conducted over Zoom but how are students going to complete labs for science? We had to prioritize our curriculum and that's tough. Last year we read a book in class and even though it was a great supplement, we just don't have time for it. It's upsetting but it makes sense. We're just figuring out as we go.