In-person SAT rescheduled for Class of 2021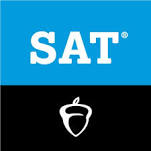 From College Board under fair use
As announced via Principal Julie Nowak's newsletter, District 211 has rescheduled in-person SAT tests for current seniors to either October 2020 or April 2021. Seniors will have until this Friday, September 18 to communicate their intended date by completing an online form.

Normally, students are required to take the state-sponsored SAT in April of their junior year. As a result of the state's mandatory school closure order last school year, the exam was cancelled for the Class of 2021. Taking the SAT remains a graduation requirement at both the state and district levels.

Administration of this year's SAT will look different than years past in order to adhere to D211 school safety protocol. For October testing, all students will be required to complete the D211 at-home wellness screener prior to coming to school, get their body temperatures scanned upon entering the building, and wear a face mask for the duration of time they are in school.
"Students will be assigned to testing rooms where appropriate social-distancing will be enforced, and testing rooms will have no more than the allowed 50 persons per space," Student Services Director Bridget Cain said.

Sitting for the exam will also take longer because of the need to complete pre-testing material on the same day. "In a typical year, students would complete some pre-testing tasks on their answer document [beforehand] to save time on test day," Cain said. "That won't be possible this year."
Testing in October and April may look different based on the safety protocols in place in the spring.

Sadaf Farsi, '21, said "I think that the SAT being constantly rescheduled is really putting a psychological toll on the Class of 2021. Many have been preparing for this test for a while and the uncertainty of when they can actually take it makes studying all the more stressful." Cain has stated that many students still wanted the opportunity to take the SAT.

Students' future plans might play a role in choosing a testing date. While a growing number of colleges are waiving standardized testing requirements for Class of 2021, other colleges continue to require the exam. Cain said, "Students are encouraged to consider the requirements of schools they are applying to when making their choice of test date." Test scores from October can be used for college admission purposes, but scores earned in the spring may be too late for many schools.

The exam is not only important for students, but also for the whole school. "The SAT not only serves as a college admissions test for students," Cain said, "but also as the state accountability exam for high schools. Our school's overall rating is determined in part by our students' performance on the SAT."

Conant administration plans to provide more details about SAT testing to parents and students in late September. In the meantime, Conant is providing SAT test preparation resources for students as in the past, and school counselors and academic support are also available.