Drama Club introduces student-led 24-hour show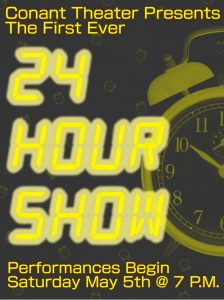 by Katherine Apperson
Conant will host its first ever 24 Hour Show, a show rehearsed, directed, and performed by students in 24 hours on May 5.
Drama Club Sponsor Shayna Adelman said, "We were looking for something additional for our Thespians, Theatre Honor Society members, could do to make their time here just a bit more special."
She added that this event is unusual, as all of the work will be completed in 24 hours rather than having at least four to five weeks of rehearsals.
Students will audition on Fri., May 4 and will come back on Saturday morning to continue rehearsing and doing technology work. Then they will perform at 7 p.m. for the Conant community.  
Spring Play Director and English teacher Katherine Apperson said, "The festival will include around 5-10 original plays written, performed, teched, and directed by Conant students."
Auditions are open to all students, and there are crew and director positions open as well.
Adelman said, "Our hope is that this event is a memorable one for everyone involved. It gives students an opportunity to test out new roles, spend time with friends, and create something new and exciting."
Students involved with theater said they embraced the challenges and hope to continue this event in the future.
Thespian President Anisha Narain, '18, said, "I hope it'll be a last fun thing for our theatre community to do. All of the plays are student-written and are going to be extremely funny."
Kyla Herr, '20, said she is excited to be directing her own play called "Golden Egg," which is about the adventures of a clumsy thief, a loud princess, a witch who has no powers, and a pixie that likes to set things on fire.
Students can watch the performances May 5 at 7:00 p.m. in the auditorium. While there is no set price for tickets, any donations will go to Nate Massa, '18, Laura Vesco, '19, and Katie Schroeder, '19, who are performing at Nationals with the Illinois High School Theatre Festival All-State Show.