Leaked preview of next year's senior superlatives: A satire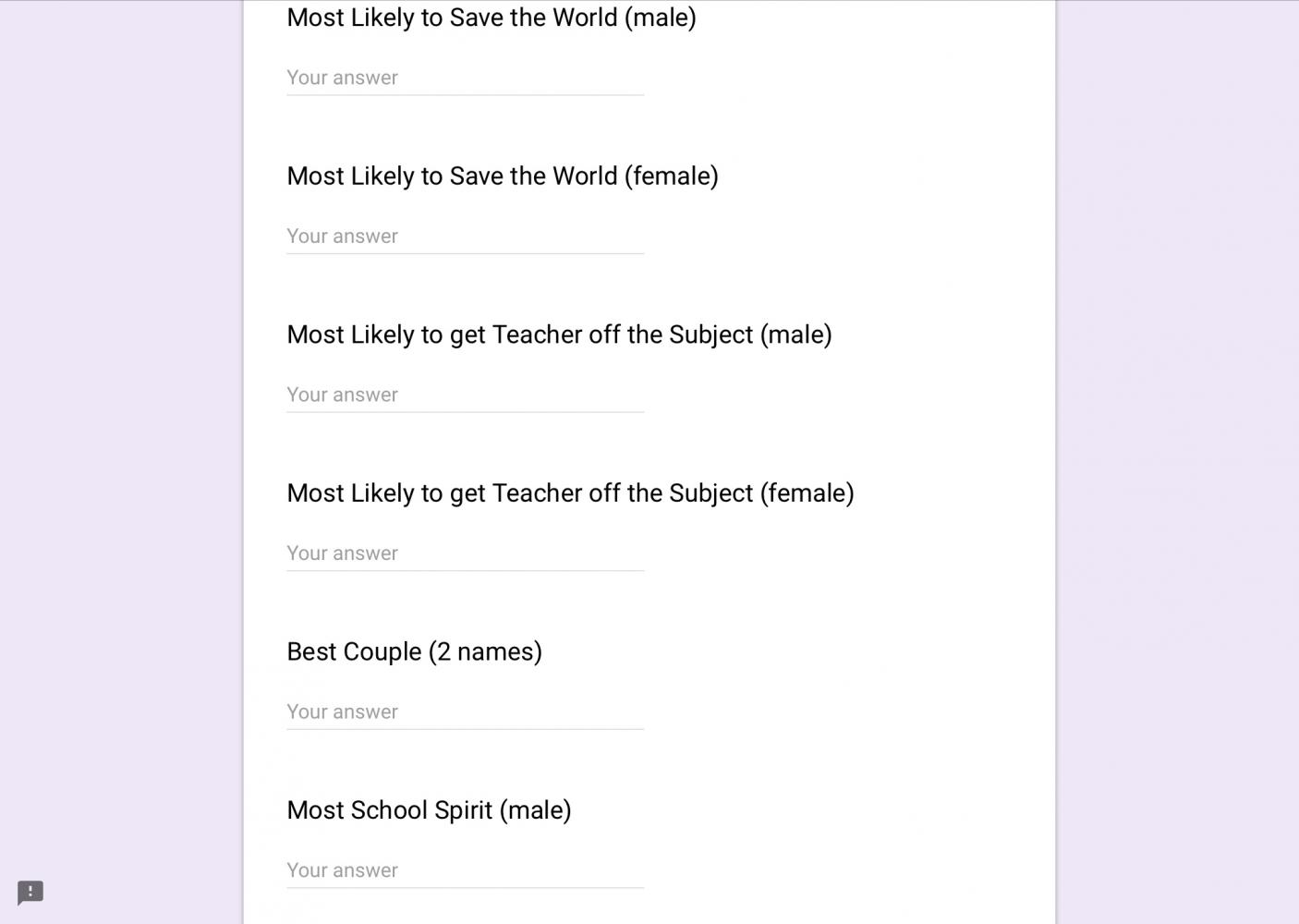 A list of potential superlatives for next year was leaked from the Senior Class Council (SCC) secretary last night. News has not yet been released as to who got the information, or who is behind the anonymous tweet that was posted. The secrecy of the SCC is now in shambles as students are given a sneak preview to next year's categories. A few of my favorites are:
"Best at Writing an Essay the Period Before its Due Date"
In this time of need where seniors are given too many assignments during their last few weeks of high school, it's a shame to not recognize the school's best procrastinator.
This person is the most reliable when it comes to accomplishing outrageous expectations. A good honoree would be the person who got an A on their junior year research paper after reading the book the morning of and writing the essay between passing periods. Maybe the classmate who's typing their whole Learning Through Community Action Program (LCAP) essay and questions on the computers in the media center during lunch, just to be close enough to the printer when the minute bell rings.
"Most Likely to Blame Paul Kim for their College Laptop Malfunctions"
This is one to look out for all year. The nominee for this award is the person who blurts out "PAUL KIM" when the classroom's airplay doesn't work. When Schoology doesn't load their file, this person is quick to assume the cause. When times are rough in college, who are you gonna blame? Paul Kim.
College brings an opportunity for new technology gadgets and glitches. For this individual, Paul Kim will be the one behind Google Docs crashing before a college paper is due. Innocent Paul Kim will be blamed for a bug downloaded to this student's laptop.
This Paul Kim fanatic deserves to be recognized in advance, and lucky him because now there's an award.
"Most Likely to Campaign for a Superlative"
By the end of the year, Seniors have too much time on their hands—and watching Netflix to avoid homework assignments can only take you so far.
This person has watched every Netflix original series, and instead of completing their math homework, they turn to social media. Not to scroll through their feed, but to check up on their tweets and snap-story views from their most recent "Vote for me for Quietest Sneeze" post.
These campaigners are so caught up in getting attention for something, anything, that they get all their friends, and friends of friends, and friends of friends of friends to vote for them. When all the tallies are counted, their fan base is the only one to submit a vote. Yes, they receive the award, but was it really deserved? It'd be like saying Ariana Grande won the award for most likely to become a cake decorator.
This new superlative is fit for the attention seeking individual. Interested? Log on to snapchat, twitter and instagram and hope that you're not too late to the campaign!
A few honorable mentions are:
"Most Likely to Look Straight Into the Solar Eclipse"
"Most Likely to Subtweet a Teacher After Grades are Posted"
"Loudest Engine Rev in Second Lot"