Everything you need to know about Homecoming 2022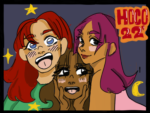 Amelie Pineda | Conant Crier
The Conant Homecoming dance will take place in the main gym on Saturday, Oct. 1, from 7:00 p.m. to 10:00 p.m., featuring an upgraded production setup with amplified effects.
"Our show at this year's Homecoming is going to be the best show we have ever had," Student Council Advisor David Moravek said.
DJ Adeous, a former Conant student, will be back, and he will be tripling the lighting effects and doubling the CO2 jets. DJ Adeous's new production manager will be a new twist to the show, as he has worked with concerts for renowned artists like Post Malone. Together, DJ Adeous and his production manager will synchronize the music and effects.
"I'm excited for the production and seeing how the effects and lights will all come together. Our space theme will be a cool touch to all the decorations," Student Council Executive Board member Adam Kamel, '24, said.
Students can buy Homecoming tickets during lunch periods starting Sept. 19. Ticket prices will be staggered, with the tickets being $15 from Sept. 19 to Sept. 23 and $20 from Sept. 26 to Sept. 30. Only Conant students will be allowed to purchase tickets for $25 at the door, but guests who are current high school students will be able to attend if their ticket was purchased beforehand. 
While there has traditionally been one Homecoming assembly, there will be two assemblies this year. The first, occurring Friday morning, will focus on performances and recognizing students. This assembly will also include recognizing the "Conant Stars." Like the "Homecoming Royalty" from the previous year, the "Conant Stars" is a new take on the traditional homecoming royalty in which club and sports sponsors will recognize two seniors from their respective activity to be given the title of a "Conant Star."
"These students represent the best of what it is to be a Cougar," Moravek said.
The second assembly will take place at the end of the day on Friday, and it will be focused on getting every student in the stands involved in games and activities. 
"Our pep assembly will be a class championship, and we want to make it as energetic and fun as possible," Moravek said.
Homecoming week will also be filled with activities like a movie night on Monday, where students can watch "Wall-E" on the back patio. Grill Club will be sponsoring a picnic during lunch hours on Tuesday, and Conant clubs and sports will be decorating the hallways after school on Wednesday. Thursday will be Toga Day for seniors, followed by the "Kickball for a Cause" event hosted by the Cougar Crazies. On Friday, there will be the "Lights Out" Homecoming Football game.
"We have something planned for every day of the week. We want Homecoming Week to be fun for our whole student body," Moravek said.
Editor's note: An earlier version of this story misreported the start and end times for the Homecoming dance. This story has been updated to correct the error.