You don't need to stress about Homecoming–here's why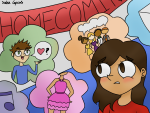 Sidra Capriolo
Let's be honest, with all the hype and expectations around Homecoming, it can begin to feel quite overwhelming. Not only are there time consuming preparations for the dance, but there are also feelings of pressure to make everything perfect and to leave an impression. But really, everyone goes through it. So worry not, this article can be your personal guide to getting through Homecoming.
Having to be Perfect
The first thing you might need to know is that you're most likely not the only one who feels the need to go above and beyond; during Homecoming many people desire to be perfect. However, what may be idealized as the "perfect" night actually requires a lot of attention. Planning everything from your outfit and where to eat takes quite some time. Stressing over the smallest details can take the fun out of what is supposed to be an enjoyable experience, even though events like Homecoming are meant for everyone to relax during the school year and get a nice break. You shouldn't feel like it's the end of the world if things don't work out the way you planned. You should still enjoy the night the best that you can. After all, parties are about having fun!
Asking Your Crush Out
Asking out somebody you like is undoubtedly difficult, but there's no time for beating around the bush! If you never make a move then there's a chance somebody else will. The world won't stop for you to have the perfect moment, so just seize it. When preparing to ask someone out, don't try to make it over the top. You don't need cheerleaders, a DJ, a marching band, and backup dancers to ask someone out (maybe save those for your promposal). There's nothing wrong with just having a bouquet of flowers, chocolate, and Homecoming tickets for the both of you. If you want to go the extra mile, then you can always have a gift to give to your crush or a quirky sign that you worked hard on.
Not Being Asked Out
Even though it's nice, don't feel as if being asked out is the most important element of Homecoming, because it really isn't. There's nothing wrong with going out with friends during this time, and there's definitely nothing wrong with not going at all. But, never ever go out with someone you don't like just because you're desperate to have a date. Not only will this ruin your night, but it might lead the other person on. On the other hand, you can always give someone a shot. Who knows, maybe you'll end up enjoying their company.
Being Forced to Go
Believe me, although it feels like this topic isn't necessary, there are many people who are forced to go to Homecoming, and it is not as enjoyable for them. Something to keep in mind is if you don't want to go, just don't. No one should force you to come to an event you don't want to be a part of. There's really nothing wrong with it; you won't be considered to be an outcast or anything. Just talk to your friends and honestly tell them that you don't want to go. Do not try to make up an excuse for it. No made up doctor's appointment is worth lying to your friends. After all, they will eventually find out.
The Perfect Outfit
Dressing your best is definitely one of the hardest things you could do. It's the first thing someone sees when they lay their eyes on you. It's understandable to want to freak out about it, but blowing your money on it is another thing. You won't need the latest Gucci tuxedo or the best Dolce and Gabbana dress. All you need is something nice and comfortable and you're set. There's obviously nothing wrong with spending a lot of money for your Homecoming outfit if it makes you happy (and you can afford it), but don't feel the need to show off to others that you're worth more. Of course, you could also wear something you've already worn in another event before, and if someone does judge, they're jealous you could rock it more than once.
All in all, Homecoming is a time for celebration and fun. And fun comes in all different ways. Whether you're into partying and dancing all night, or playing video games at home, I wish you a fun Homecoming experience!