New bell system integrates with other school safety systems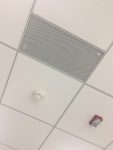 Hannah Blesson | Conant Crier
Conant students were literally welcomed back from Thanksgiving Break with a roar. A new bell system, including a cougar's roar for the one-minute bell, integrates new safety changes in the building.
At the beginning of the year, blue lockdown push buttons were installed in different areas of the school. According to Assistant Principal Mark Langer, "When the push button gets pushed, it kicks into the safety piece, which controls the bells and messages that we have more automation and control over." Previously, the bell system was separate from the push button system, but the update now allows the bells to work in cooperation with a potential lockdown.
The new bell system comes with a variety of bell tones. Langer incorporated the cougar "roar" that people heard on Tuesday and Wednesday. "We tried to have a little fun with it and bring some joy to the world and make the cougar roar," Langer said.
The reactions to the roar were mixed. Its volume and length bothered some. Sapna Nattuvetty, '20, said, "Sometimes when people were actually starting to work in their classes [before the bell rang] and suddenly the minute bell goes 'roar!', it was distracting."
While the bells are still subject to change, some had suggestions. Yosli Escobedo, '21, said, "The roar is fine, but they should cut it a little bit shorter because it goes on for too long."
Media Teacher Assistant Julio Alvarez said, "I would suggest something more quick, more succinct, like a slash or instead of a whole bunch of growls, just one growl."
Along with the different bell tones, the new safety system includes a variety of new school-wide features, including RFID cards, which can unlock doors with a scan, and alarms on various exit doors. As the year progresses, more of these safety features will be included in different parts of the school.
[print-me]