Principal Advisory Board meetings tackle dress code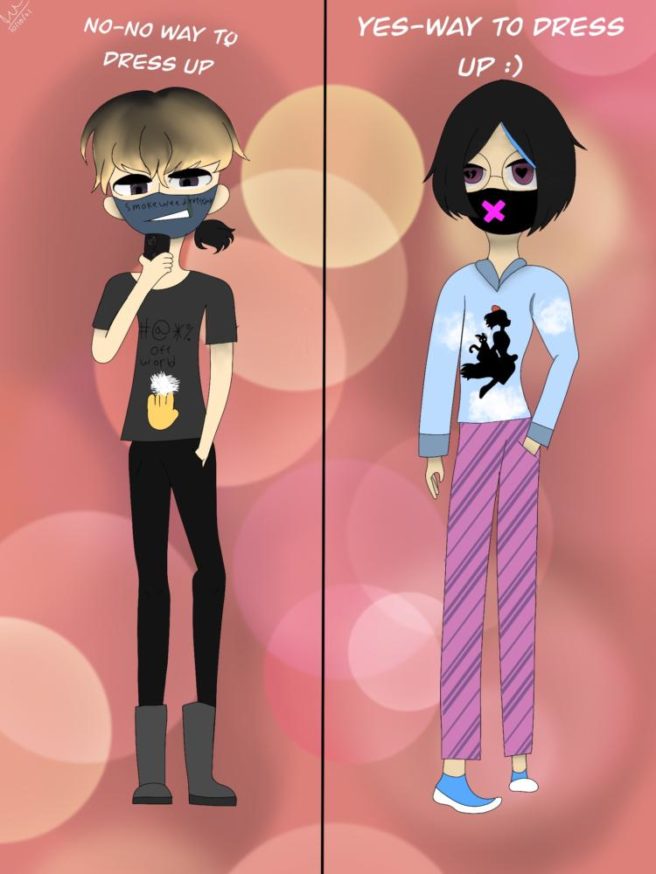 Ash Chang
In response to student concerns regarding the lack of clarity and perceived gender bias in Conant's current dress code, the student Principal Advisory Board conducted two meetings in November for the purpose of getting student feedback. Board members unanimously agreed that "unless a piece of clothing directly violates what is explicitly stated in the dress code, students should be allowed to wear what they would like in a school setting," Principal Advisory Board member Lora Karlapudy, '23, said.
The Principal Advisory Board meeting was part of several administrative discussions relating to the current dress code. It will be further discussed by District 211's wellness and equity committees, in which both committee boards will review and reevaluate the dress code. The feedback that is gained from both committee meetings will be brought up to the board policy committee, and any changes to the dress code will be made by board decision. 
There has yet to be a meeting with the board policy committee and there have been no changes to the dress code so far. 
The District 211 handbook states that "Students' dress and grooming must not disrupt the educational process, interfere with the maintenance of a positive teaching/ learning climate, or compromise reasonable standards of health, safety, and decency." 
While this is the intended purpose of the dress code, some students say that the dress code is too general. "The dress code itself provides a good message, but the interpretation of said message is up to the individual, which can cause multiple options for one stricken piece of clothing," Maria Pye, '23, said. "My main concern with the most recently published dress code is that there is no clear standard for decency, health, and safety, whereas there are written expectations for what can be printed/worn on clothing and headgear."
Some female students have expressed concern that other female students are more regularly disciplined for dress code violations despite the fact that the dress code itself doesn't have any mention of the amount of skin being exposed. "I would say [the dress code] targets women more than being an [unbiased] dress code. I had a friend wear a tank top before and she was dress coded. Girls shouldn't get dress-coded for wearing tank tops," Caroline Wyrostek, '23, said. 
A major part of the issue between students and the dress code is about what's considered appropriate for school and what isn't. Wyrostek added, "Clothes such as tank tops should not be dress coded because they aren't revealing inappropriate body parts."
Some female students say that the dress code makes them feel very limited in how to express their individuality and their personal freedoms. Aahana Goswami, '23, said, "100 percent Conant has always been pressuring women to cover up way more than men, and it's really frustrating because it feels like Conant is trying to de-individualize their female students." 
Conant Principal Julie Nowak said these types of situations "happen very rarely" and that "most of the time, students dress very adequately." 
Wyrostek shared that during Toga Day, a Homecoming tradition celebrated annually by Conant Seniors, many male students did not wear shirts under their togas. "During Toga Day, I've seen many shirtless guys with their chest heavily exposed. I feel as though the school needs to be consistent with dress coding both genders equally," Wyrostek said. 
Nowak said she recognizes that a special situation like Toga Day could have been handled differently. She noted that many male students should have been disciplined for not wearing shirts underneath their togas and said this situation "should have been addressed." 
Students who attended the Principal Advisory Board meetings said it was beneficial to share their thoughts and concerns on the current dress code. "I felt that the meetings were a good place for students to share their thoughts and experiences regarding the dress code policy, especially women regarding their experience with the policy," Karlapudy said.
Some students also said these meetings helped to connect students and staff more on current topics at Conant. "I agreed with a lot of the points made. The conversation was a reminder of how hard it is for staff of the school to approach violations to the dress code, which doesn't have many rules to begin with," Principal Advisory Board member Hannah Husnick, '23, said. 
In response to the suggestion to improve the dress code clarity, Nowak said, "Topics such as dress have an objective component, so clarity is always helpful. No matter how clear the policy is, there will still be questions that require an objective review."
Nowak also felt that the advisory board meetings were successful in gathering and sharing student ideas. "It's great for students to offer their opinion. There are things that we need to know, such as the voice of the student body, when considering policies."