School year starts sooner in 2016-2017
District 211 recently announced its adoption of a new collegiate-style school year for 2016-2017. The traditional D211 schedule, which included finals after winter break, has been changed to reflect that of many colleges around the U.S.
The idea of changing the layout for the entire year had been proposed many times in the past. Principal Julie Nowak said, "It was always a concern for the administration because this is a very big decision; it is something that has taken place over a number of years."
During the process, district officials observed other schools in the area. For example, Barrington High School implemented the new collegiate style schedule this year.
Nowak said, "The pros and cons were weighed, it seemed that the stress students had about finals over break was the biggest concern. The preparation this new schedule could provide for [students attending] college also gives a benefit."
The revised calendar includes finals before winter break and different starting and ending dates. These dates are similar to those of colleges, where early August began the school year and late May ended it.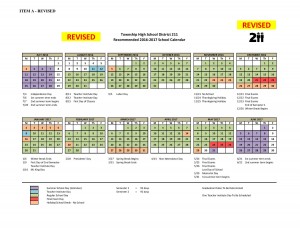 Schedule provided by Conant Principal Julie Nowak
Junior Mona Tariq agreed that the revised calendar would be ideal. She said, "I really like the idea of having a collegiate style calendar. I feel like it'll make the switch from high school to college easier and help the students get better grades. Kids can finally have a real break with no studying and homework to do. It'll be less stressful in the long run. I only wish it was implemented sooner."
Junior Akash Patel agreed with Tariq and said that he wishes the district made the decision earlier.
Sophomore Anna Yamamoto said, "Instead of staying at home and stressing over finals and other homework, I would rather be with my family and go skiing. Winter break is meant to be enjoyed, and we could never properly do that."
Instead of having students scrambling to prepare for the weeks into finals, the year will be more separated for easy academic transition.
"By changing the school calendar, we will make full use of our instructional days, more closely align our students' preparation with what they will experience in college, and allow students to have a true break between semesters," said superintendent Daniel Cates.
Senior Katie Kopp said, "I personally think [the change is] better because then you get [finals] over with and have a relaxing winter break. Plus if we have snow days after break, like we have been for the last few years, it ends up just causing more stress."
Cates explained, "The proposed calendar will inherently sustain a rigorous focus on learning and academics all the way up to the winter break. In the traditional calendar, students and teachers would have good instructional momentum into December and then take a two week break, only to have to re-establish their focus upon their return, and then two weeks later take a final exam that is supposed to measure their learning for the entire semester."
The district received feedback from many in the community prior to approving the change.  Cates explained, "We sought and received a remarkable number of responses from parents, students and our staff members. We had a total of 5,225 responses to our survey about the school calendar. Across all three groups, the responses were consistently and equally compelling: 70 to 75 percent of the respondents among parents, students, and staff members preferred the proposed collegiate-style calendar."
However, some of those who disagreed with the new calendar were concerned about the earlier date for finals. Alison Chan, a sophomore, said, "I think that they should be later because then it gives us more time to study. I would feel less stressed."
District 54, whose students feed into District 211, will not be including any changes to their own schedules, remaining on the traditional route. This difference would only be slight, Nowak said, as high school students would now have a chance to pursue summer jobs and go on break earlier than siblings and relatives.
What do you think of the calendar change? Leave your comments below!