Conant senior to perform with D211 Honors Orchestra as concerto competition winner
As a result of winning the 2023 D211 Honors Orchestra Concerto/Aria Competition, Sree Prasad, '23, will be performing the first movement of Piano Concerto in A minor, Op. 54, by Robert Schumann with the D211 Honors Orchestra, an ensemble comprised of the most advanced students in D211 band and orchestra students, at the D211 Honors Orchestra Concert on Feb 11.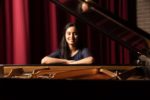 Photo courtesy of Sree Prasad
"I was very excited for this opportunity because I have never played a concerto with an orchestra before," Prasad said. 
Prasad has been preparing the musical work since July of 2022 for upcoming performances and competitions. According to Prasad, she and her teacher chose for her to learn the Schumann Piano Concerto because Prasad had an affinity for Romantic Era works and for the technical details in the piece of music that would challenge and elevate her level of playing. 
"This was the longest piece of work I've had to memorize. It required more time practicing to feel comfortable playing it," Prasad said. "But, the biggest challenge in studying this piece has been the technical aspects in the cadenza and being able to to play them without losing the emotive aspects and phrasing."
One of the most dominant and popular piano concertos from the Romantic era, the Schumann Piano Concerto features an exuberant melody contrasted with a dreamy melody, meant to represent the two extreme characters of the composer's personality: Florestan and Eusebius. 
Prasad encourages the audience to listen for the different characters and melodies being passed between the orchestra and piano. 
"The music is very emotional," Prasad said. "The melodies are very lyrical and sentimental, so I feel that it's very easy to connect to."
The concert will also feature other works such as Capriccio espagnol by Nikolai Rimsky-Korsakov and Marche slave by Pyotr Ilyich Tchaikovsky. Conant students Airi Ito, '24, Chekiya Willis, '24, Daichi Kurita, '23, Eric Davidson, '26, Les Stark, '24, Lily Yoshihara, '25, Metehan Tandag, '24, Rhema Tai, '26, and Yuuki Sato, '23, will also be performing in the orchestra, with Ito serving as concertmaster and Yoshihara as principal of the second violin section. 
The D211 Honors Orchestra Concert will take place at Conant High School at 7 PM in the auditorium and admission is free.