Conant staff and students' initial reactions to e-learning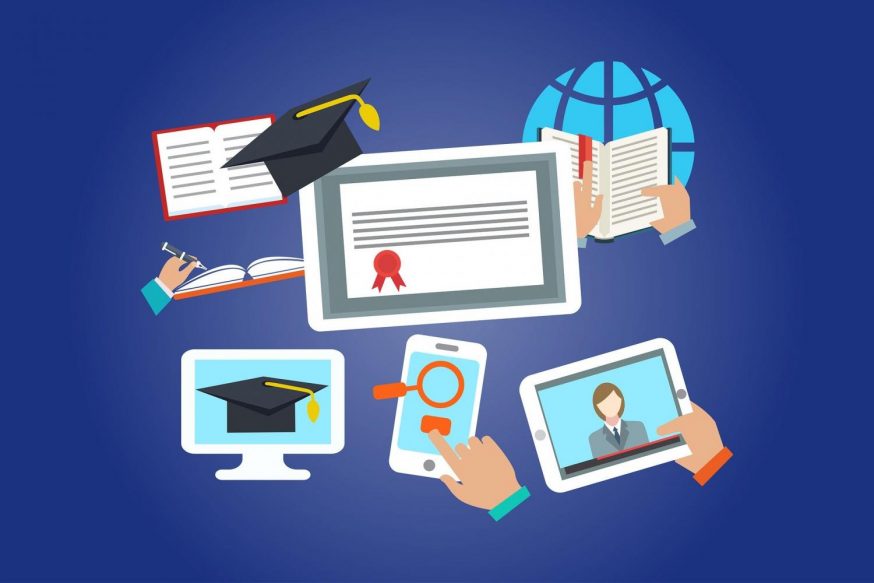 From Pixabay under Creative Commons
Students and teachers become familiar with e-learning and learn to work around technology issues after learning that schools will not reopen for the semester.
When Illinois Governor J.B. Pritzker announced a statewide shutdown until April 7 due to the coronavirus on March 20, District 211 prepared to continue teaching students through e-learning until schools reopened. During the third week of e-learning, however, Pritzker announced that schools will not reopen this year, causing students to finish this semester through e-learning.
District 211 Superintendent Daniel Cates sent out an email to D211 parents and students on April 1 describing the e-learning process. Teachers will post assignments by 9:00 am every day and are available to support students during a designated three-hour window. Students can expect to spend 30-40 minutes on each assignment and are expected to record their attendance through Infinite Campus.
During the first week of e-learning, students and teachers discovered how frustrating the e-learning process was.
Shubhangi Sneha, '21, said, "Schoology kept crashing, so I would have to do double the work because all my updates wouldn't load."
English teacher Joshua Harbeck said, "I was not anticipating all of the problems with Schoology the first couple of days. To their credit, the people at the company did seem to have things running well later in the week, but those first few days were frustrating when I had planned to have Schoology as my main means of communication."
From their struggles, students and teachers were able to adapt to their situations and figure out the best way to use their resources.
Math teacher Amy Differding said, "Some things I set up didn't work out quite like I envisioned they would so I made adjustments. I implemented a new system of questions and answers. I feel it is easier for the student to keep track of, utilize, and find answers to their questions."
"I also experimented with new technology like Flipgrid and Zoom, both successfully," Harbeck said. "Using Zoom definitely allowed me to feel more connected to my classes rather than simply posting things in Schoology and hoping to see the work turned in."
Students and teachers agree that Zoom meetings are effective and allow them to stay connected with their classes.
John Rimando, '22, said, "I think that Zoom meetings are a great way of communication between the teachers and students. I only have my math class consistently use Zoom meetings every day and those meetings are a good way for students to ask our teacher any questions in regards to the homework and what they are learning. If there aren't any questions during class, then we just connect and talk to our math teacher about life, which I think is very important."
While continuing to learn online, students and teachers realized how important physical learning was.
Charlotte Stanton, '23, said, "I don't like it as much as being in a classroom because it's a lot harder to focus. There are more distractions at home. It's also harder for me to put my phone down or not be watching Netflix. The plus side is how much more free time I have, though."
"I miss seeing everyone and it was nice to see people in the Zoom meetings I have had for my classes," Differding said. "I believe the biggest struggle is the volume of new information everyone needs to keep up with. It is necessary to communicate with the students and parents to keep everyone informed but it is a lot to keep track of. I hope the students are not overwhelmed and feel comfortable asking questions of their teachers for clarification."