Local impacts of the national teacher shortage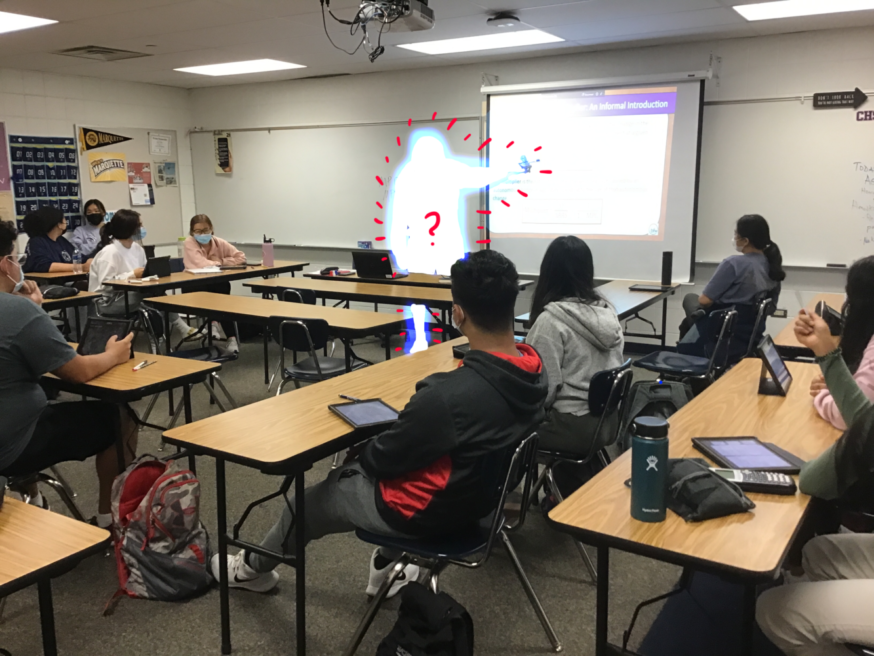 Nivedha Krishnan | Conant Crier
Throughout Illinois and much of the United States, school districts face the growing reality of a teacher shortage. By 2026, an estimated 270,000 public school teachers will leave the profession behind. According to the National Education Association, 28% of teachers report that the COVID-19 pandemic has made it more likely that they retire early or switch careers. 
Despite wide-ranging challenges in hiring teachers throughout the state, District 211 has been able to maintain usual faculty staffing levels for this school year, though substitute teachers and other support staff remain difficult to find. 
Conant's hiring process traditionally begins in December of the current year, when students choose their schedules for the upcoming academic year. District 211's staffing process is based on faculty vacancies, the number and type of sections needed for classes every year, statistics provided by retirements, and indicated student interest during scheduling periods in the winter.
"By February, I know exactly what our needs are for the next year," Conant Principal Julie Nowak said. "We're really posting our positions well before spring break… I never go into summer without our staffing needs met, which serves us very well."
Not only does Conant's hiring process begin early in the year, but Principal Nowak also credits Conant's staffing strengths to District 211 resources that provide training and incentive for new teacher candidates.
"We are so fortunate to be able to be considered a lighthouse district. Some of the major reasons are that we have amazing students and amazing families who commit to the district, and we have an abundance of resources available for teaching candidates," Nowak said.
Despite any shortage felt on a national scale, Nowak clarified that the hiring process was not very much different from years prior: teachers were still evaluated based on every relevant criteria, including fit for the Conant community and diversity.
"Sometimes we call it looking for a unicorn," Nowak remarked.
Historically, Conant has not struggled to fill staffing needs for long-term teaching positions. However, the effects of the staffing shortage are not localized to long-term positions. Currently, Conant and other schools in District 211 face a shortage of available substitute teachers, leaving absent teachers to rely on their colleagues to help fill the gaps. 
"Our departments often work collaboratively throughout the school. That being said: this year, it is more out of need. It is definitely something taking a little bit of a toll on our teachers, needing to cover within their departments," Nowak said.
"Everybody within our department uses the free periods to cover for absent teachers," social studies teacher Eric Jacobsen said. "This may be the biggest substitute shortage we've had. On one hand, we all cover for one another. On the other hand, it means we have less time to meet with our students outside of class."
An email correspondence from D211 to district staff states that "[D211] is actively hiring for a number of positions – from teaching assistants and food service workers to bus drivers, custodial staff and substitute teachers."
A recent Daily Herald article cited that D211 as a whole is "struggling to find teachers for specialized positions, including ESL, special education, applied technology, and family and consumer sciences". There has also been a marked drop in applicants for social worker and school psychologist roles.
Such shortages of non-teaching staff are not limited to D211 and Conant High School. Neighboring district U46, or the Elgin school district, serves 37,000 students, all of whom have returned to in-person learning. However, it almost didn't happen due to cited 'staffing challenges'. 
Specifically, the Elgin school district made clear a need for bus drivers, speech therapists, nurses, occupational therapists and school psychologists. Superintendent Tony Sanders cited the startling statistic of 90 educators being available in the area, and suggested that 'non-traditional' teachers may be introduced to the classroom.
Still, when it comes to anticipating further challenges down the road, Nowak maintains confidence in Conant's hiring.
"For Conant, the equation is entirely different. School systems are set up differently, and there are different resources available to different systems. I have an incredible respect for U46, they do a fantastic job… and I have an incredible respect for the new teachers we've hired this year at Conant. I can't wait to see what they accomplish in the coming years."