Student Council hosts annual food drive for Cougars in Need
Student council is holding a food drive for Cougars in Need from October 25-29 as a way to supply the school's food pantry, where students can go and pick up items they need, before the upcoming Thanksgiving break.
"During school, students have access to food, but during holiday breaks, they might not have access to any. The food from the food drive will help them make it through those breaks," board member Lina Yao, '22, said. "Thanksgiving season is, of course, the season to give back."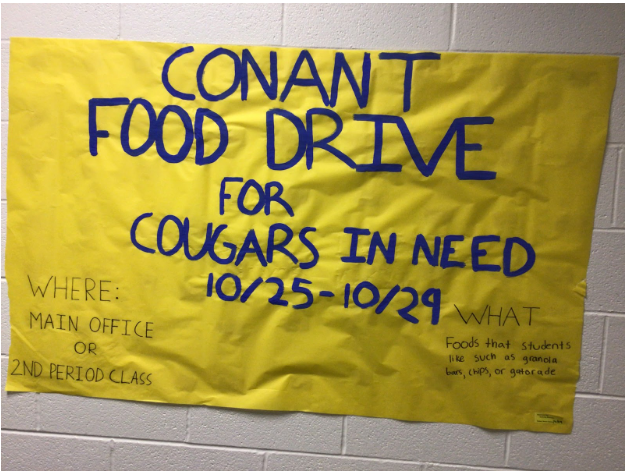 Nandana Voolapalli | Conant Crier
This year, the second-hour classes that choose to donate food will be competing to see who can donate the most. The class with the most donated foods will win cookies. Despite the fun competition, every student and staff member is encouraged to donate food and spread the word about the food drive to their second-hour classes and the people around them in general.
Yao elaborated on the importance of spreading the word about the food drive to their classes, "We encourage every class, every student, to pitch in and spread the word. I think every little thing someone does matters, it's going to help someone."
Students can drop off non-perishable food to their second-hour classes or in the main office. This year Stuco is asking students to drop off snack foods such as oatmeal, pop-tarts, cereal (individual), mini muffins, cereal/granola bars, fruit cups, applesauce pouches, fruit snacks, mac n' cheese (individual), ramen noodles, ravioli, chips (individual) cookies (individual), cheese & crackers, microwave popcorn, gatorade, and/or juice boxes. Food that kids in school eat all the time.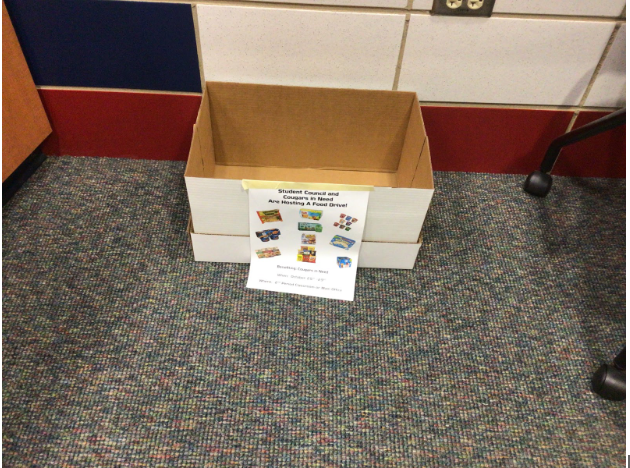 Nandana Voolapalli | Conant Crier
Another bonus to donating foods is completing civic engagement requirements. "I encourage students to form their own groups, donate food, and spread the word because it counts for civic engagement," Stuco board member Syeda Ali, '22, said. "It's a win-win situation."
Donate any snack foods you have lying around in your kitchen for Cougars in Need!