Students reactions mixed to "semester only" grading system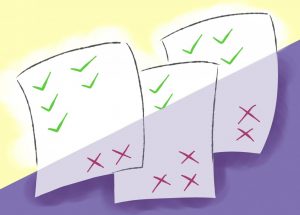 Futo Wada
Since the start of the 2017-2018 school year, Conant High School (and the rest of District 211) has adopted a new semester grading system, similar to the grading system used in colleges and universities.
Many students feel that removing quarters will ultimately be beneficial to their grades because better grades at the beginning of the semester will outweigh any worse grades later on.
Maunika Gandhamaneni, '19, said, "I like the idea of removing quarter grades, personally, because starting over in the middle of the semester just stresses me out. I pretty much get good grades all around, but sometimes one bad grade just changes everything."
Sabah Lokhandwala, '20, said, "Having only semesters helps students monitor their grades constantly and gives them a longer span of time to improve their grades."
Some students, however, who like the idea of a "fresh start," are worried that they may struggle to bring their grades up without a new quarter to help them get back on their feet.
Rithi Bramanathan, '19, said, "I'm personally not a fan of the new 80 / 20 system. Before, if the first quarter was rough, the second quarter could help bring your grade back up. I get that you might have more time to improve from now on, but you won't have the opportunity to restart as strongly if things go wrong."
Both sides bring up pressures that students might face with the new system, as well as pressures that they've already faced with the existence of quarters.
Social Studies Teacher Jennifer Stearns said, "The new system will help students learn and grow in the long-term, giving them more time to secure their grades."