RISE speaker night to feature personal feminist journeys and discoveries of intersectionality of notable women
Conant RISE (Reaching Individuals by Supporting Every Girl) will be hosting a speaker night on Nov. 12, featuring notable women to speak on the theme "Intersectionality: Redefine Your Feminism" by sharing their personal feminist journeys and discoveries of intersectionality.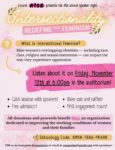 RISE
"To me, 'Redefine Your Feminism' means stepping back and taking time to self-evaluate if we, as feminists, are making sure everyone is accounted for, represented, and respected," RISE board member Hope Jo, '22, said. "Too many times POC women, queer women, lower class women, and women who are not part of society's 'mainstream' are not included in the conversation, and as a POC woman myself, I want to make sure that when we talk about equality between genders, we talk about equality within gender as well."
Intersectional feminism stands for the rights and empowerment of all women, taking into account the differences and different identities among women and centering the voices of those experiencing concurrent forms of oppression in order to understand the depths of inequality and discrimination.
"Intersectional feminism is about bridging the gap between individual experiences with feminism and mainstream feminism," RISE board member Maher Fatima, '22, said. "It's about realizing that each woman's journey is individualized by a variety of factors [such as] their race, their religion, or their sexual orientation. Intersectional feminism is about acknowledging these differences and bringing people together to advocate for women as a whole. Without it, certain social minorities are excluded, their voices left unheard. Intersectionality promotes support for all women, rather than a select few."
Speakers will include Laura Manaugh, Director of IT at Anson Industries, Inc.; Krupa Patel, Social Media and Content Development Manager at the Kenneth Young Center; Dr. Ikroop Khazanewala, a psychology postdoctoral fellow at the University of California San Francisco; and Carmen Gutierrez, social studies teacher at Conant.
According to RISE board member Eesha Desai, '24, RISE looked into their communities, social media, and organizations they supported to find potential speakers that they admired or were inspired by. "We chose our speakers for this year's event because a lot of them are women in higher, male-dominated positions or fields, and we wanted to hear their input on what their stories are and how their individual feminism contributed to their successes," Desai said.
Fatima hopes the speakers will help people realize that no careers are off limits for girls. "We hope to show them that their backgrounds and identities aren't a measure of how far they can go, rather they're a reminder of where they came from," Fatima said.
Speaker Night is RISE's largest event of the year, said Desai. "It largely focuses on drawing inspiration from the speakers we reach out to, and we hope to leave attendees with a thought or future goal that they can apply to their own lives."
RISE board member Gauri Menon, '23, said that the goal of the event is to also empower girls to stand up to challenges and overcome gender barriers.
The fourth annual event will be held in the auditorium at 6:00pm, though it will also be broadcasted on Zoom. Admission is free and open to the public, and attendance can also count as NHS engagement hours. The event will also include a bake sale and raffles. All donations and proceeds will benefit 9to5, an organization that works toward economic equality by improving the working conditions of women and their families.
RISE hopes that the event will cause people to view feminism from a different perspective. Jo said, "I want people to evaluate and redefine their previous ideology of what it means to be a feminist. Whether it's through introducing different aspects of intersectionality, talking about unique backgrounds, or even refuting misconceptions, I hope this year's speaker night sheds a different light on feminism, leaving people feeling inspired and educated."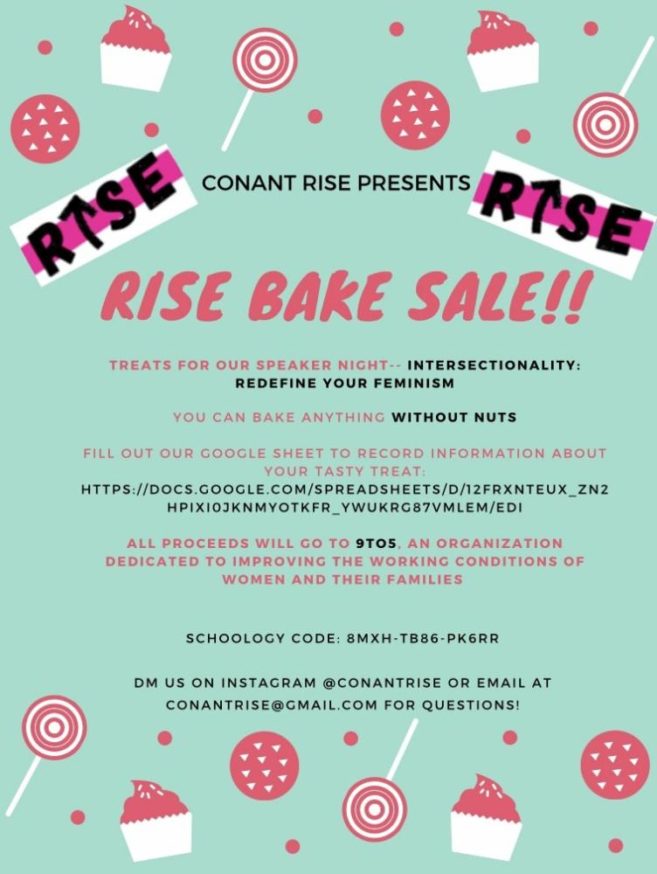 RISE