Winterfest to raise money for pediatric cancer, among other changes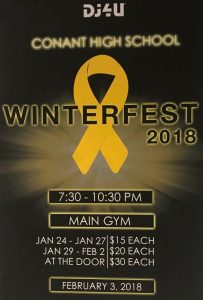 Allison Pariso | Conant Crier
The Winter Fest dance will take place on Saturday, Feb. 3 from 7:30-10:30 p.m. This year's theme is "Party for a Purpose," as all proceeds from the dance will be donated to pediatric cancer research.
Student Council Co-President Luke Logerquist, '18, said, "The reasons for why we are deciding to donate the money made for Winter Fest is that we have had recent instances of pediatric cancer happen within our own community. This shows how prevalent the cause is and we want to help to our best ability to help with further cases or instances that occur."
The dance is also a joint initiative between the Student Council and the National Honors Society (NHS).
NHS Co-President Valeria Moreno, '18, said, "We decided to co-host Winter Fest with Student Council because we wanted to do a big event, but we couldn't figure out the right time or the purpose of it. By co-hosting, we, as NHS, could allow the people to have a bigger impact, and Student Council could provide all the materials and organization."
NHS Sponsor Jacqueline Brown added, "NHS was looking for a spring event this year. We typically sponsor St. Baldrick's but only host every other year to not lose excitement."
Throughout the week, tickets are being sold for $20 in Office 101 during lunch hours. They will be available for $30 at the door on Feb. 3. There are both single and guest tickets this year; guest tickets cost double the price of single tickets.
A new guest policy is also being used this year for students who do not attend Conant High School or have graduated. "Now Conant students can only bring one guest per person. They must also get a guest form signed by their administrator to have them be allowed to buy a ticket," Logerquist said.
Student Council Advisor David Moravek added, "Please be aware that the guest form requires some basic contact information, parent signatures, approval from Mr. Langer, and the signature of the guest's high school administrator. If the guest does not currently attend high school, then this space may be left blank."
Although there are many changes, other elements of the dance will remain the same. DJ4U, the same company from Homecoming, will be coming back for this dance.
In addition, Moravek said, "We are excited to bring back the Meltdown game and several other special elements that will make this dance experience unique."
Brown said, "I hope that a lot of NHS members attend the dance and awareness is brought to pediatric cancer. We will see how this goes, and another event like this is definitely a possibility in the future."