Stuco food drive aims to see who "can" win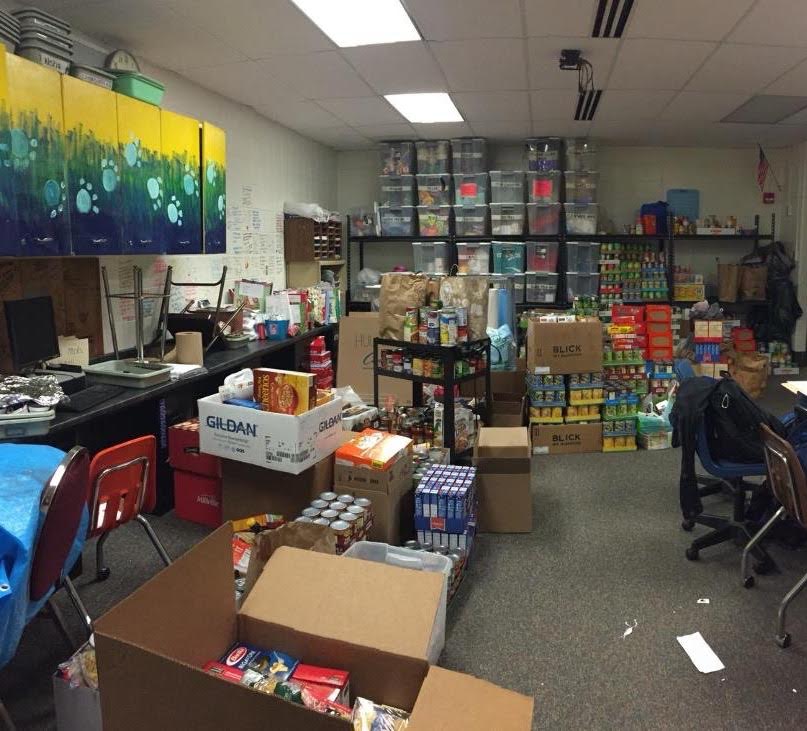 Student Council's annual food drive brought in 5,733 items, an incredible 25 % increase from last year. Not only did the drive help stock the food pantries at Elk Grove, Schaumburg and Conant right before Thanksgiving, but a new winner–albeit a group of staff members–finally beat longstanding champion, math teacher Stephen Kurfess.
The drive was held from Wednesday, November 11, to Friday, November 21, and the theme was "Who 'can' win," a competition to see who could collect more cans than Kurfess, a math teacher famous for matching his students' donations and then winning the competition by a landslide.
Similar to previous years, every second hour class was invited to participate in the drive. The canned goods were stored in the Stuco office. Students and staff alike were invited to come and see the mass of the food that was collected at the end drive. Unlike previous drives, there were three categories that separated those who were donating: staff, classroom and club.
In the staff category and in first place overall, "The Boys Club," consisting of Ron Izzo, Don Brust, Sal Rivera and Rick Jarecki, collected 1,303 items. With a little help from Principal Julie Nowak, Kurfess donated just over 1,000 items for the classroom category and took second place. In third place and in the club category, the Christian Fellowship of Athletes brought in over 800 canned goods.
On the last day of the drive, students were also encouraged to bring in a can to Door 25 as they walked in, and those who did received a raffle ticket that would enter them into a drawing for Winterfest tickets.
In an email to Conant staff, David Moravek, history teacher and sponsor of Stuco, said that Stuco would like to commend the following people and groups for donating over 200 items: math teacher Richard Cortez, science teacher Jennifer Pettyjohn, world language teacher Brian Drenth and the Special Education department.
Moravek said that Stuco would also like to say thank you to everyone that participated and that "the efforts of [Conant's] staff and faculty will make a difference in our community this holiday season." He added that Stuco will continue to try to increase the donation of canned goods next year as they carry on the tradition of giving back to the community.