Senior Wachal scores thousandth point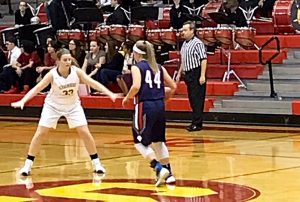 Allie Robak | Conant Crier
One thousand points. All the layups, free throws, and big threes made throughout high school may have seemed insignificant, but after that one basket, the one that gave you one thousand points, they all seemed to matter.
Guard Jorie Wachal, '17, scored her thousandth career point on Thurs, Nov. 18, in the Thanksgiving tournament at York High School. She is the first at Conant to do this in at least the last 10 years, according to Head Coach Deirdre Naughton.
Wachal said she was excited to score her thousandth point due to the amount of time she had worked to reach it. "It was an exciting accomplishment," Wachal said. "It's been a goal over a few years that has been accomplished."
Wachal's teammates were excited for her accomplishment as well. Teammate Cate Fitzgerald, '18, recalled being happy for her, but mostly surprised, because she had not known that Wachal was so close to that point in her career.
Wachal said at halftime that they announced her achievement, and she was allowed to take the game ball home, but she did not get to celebrate any further with family or her team.
Naughton recalled some of the other athletes who have scored over one thousand points in their high school careers. "When you look at the other kids in the conference, they are all competing for player of the year, and they are all the top players in the conference," Naughton said.
With this being Wachal's fourth year on varsity, Naughton said this achievement has showed how hard she has worked and has improved during her time here at Conant. "She's the type of kid that will get in the gym all by herself, in the middle of summer, when nobody's watching," Naughton said. "I always know Jorie is in the gym."
Wachal described her motivation for the hard work she has put in to score one thousand points: "The drive to get better is what motivates me, to be able to be successful is a great feeling, and I love playing the game so I work harder."
Wachal is also a two-time captain for the basketball team. This year, however, was the first time that the captains were selected by their own teammates. Fitzgerald explained that she voted for Wachal because of how she uses her basketball knowledge and talent to help unite the team and make them want to compete.
Naughton explained that due to Wachal having so much experience, she is similar to a third coach, and Naughton can trust her as a leader to work with the team and get everything they want done.
Wachal said that as a leader and captain, she tries to work as hard as she can during games and practice, because, she explained, "If I am working hard, it will make the them work hard too."
As this is Wachal's last season at Conant, she will be leaving her mark on the girl's basketball program. "There's going to be a scoring void to fill next year, for sure," Naughton said. "But I think she will influence a lot of people into working hard because that's why she got where she is today."
Wachal said she would like to continue playing basketball in college if the opportunity presents itself, but she does not have any specific universities in mind that she would like to play at.