Conant wrestling roars into Sectionals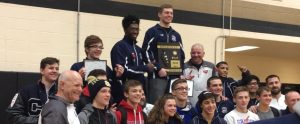 Isaac Goffin
Through successful dual meets, a tough schedule, and efficient practice sessions, the Conant wrestling team is in position to achieve their season-long goals, one of which was accomplished last Saturday by winning Regionals as a team. The team looks now to win their dual team Sectional, which would bring the Cougars closer to their final goal of winning a State team trophy. The team is No.14 in the state, and their recent performance shows just why.
At the Streamwood Regional tournament on Feb.4, not only did the Cougars advance 12 out of 14 wrestlers–which included four first place finishers–to the individual Sectional, but they won the tournament as a team, with a score of 215.5.
Besides experienced wrestlers like Eric Hominac, '17, who won the 170 lb. weight class at Regionals, many young varsity wrestlers stepped up on Saturday. Notable wrestlers in that category are Tommy Santangelo, '18, who placed third in the 106 lb. class; Jeremy Conroy, '18, who also placed third in his weight class; and Cormac Kane, '19, who won his 160-lb weight class.
Practice has made this team what it is. Coach Chad Hay said, "Each individual's efforts contribute to the team success. Every day at practice, we'll focus on positivity, being there for the team, picking up another teammate when practice gets tough, and always focusing on our team goals."
The team has gotten his message. Lee Fuller, '17, who placed second in his weight class on Saturday, said, "We have put a lot of effort into this season, which includes an hour and a half of practice every day. Everyone works hard and does what the coach asks for."
The top four wrestlers at each weight class in the Sectional tournament will move onto the State tournament in Champaign. A wrestler can be a state All-Star if he finishes in the top six in their weight class at State.
For now, the team is focused on the individual Sectional tournament, which begins Friday, Feb.10 at Conant at 4 p.m. The tournament will continue into Saturday, Feb.11, resuming at 8 a.m. Conant will participate in and host the dual team Sectional on Tuesday, Feb. 21 at 6 p.m