Wrestlers claw their way to Elite Eight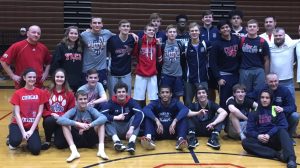 Photo courtesy of Chad Hay
Though unsuccessful at the Individual State Championships last weekend in Champaign, the Conant wrestling team came together on Tuesday night and defeated the Notre Dame College Prep Dons by a score of 36-27. The team will head to Bloomington on Saturday, Feb. 25 to compete in the Elite Eight, where they hope to finish in the top four and bring home a trophy.
Fourteen Conant wrestlers went into the ring for this Dual Team Sectional, some having outstanding performances, which included several pins, and others struggling to gain any leverage.
Notable matchups and wrestlers on Tuesday included Cormac Kane,'19, who won by a technical default in Conant's last matchup of the night, sealing a Cougar victory.
Lee Fuller,'17 pinned Conor Flaherty in the 3rd period, giving Conant a 9-0 lead early in the meet.
Conant would soon struggle after that, eventually giving Notre Dame a 15-9 lead just five matches into the meet.
But Alex Giuliano,'19, who faced Vincenzo Genualdi, tied the score at 15 after pinning Genualdi.
Jeremy Conroy,'18, defeated Michael Moore, giving Conant an 18-15 lead they never sacrificed.
Notable wrestlers that lost for Conant were Tommy Santangelo,'18; Nicky Amato,'19; and Filippo DeFrenza,'19. However, the Cougars did win eight out of their 14 matches.
The Cougars have gone a long way to get to this point. At the beginning of the season, they weren't even ranked in the top 25.
Alex Giuliano said,"Coming into the season, many people thought that it was going to be a down year for Conant wrestling because we lost many talented seniors. We've worked so hard and surprised so many people. We're going to give 110% effort this weekend to go and attempt to win a team trophy!"
The Cougars believe they are ready. Coach Chad Hay said, "The team is as tough as ever right now. They are peaking at the right time. They have a laser focus on earning a state trophy this week."
The Cougars will face Deerfield High School on Saturday, Feb.25 at 11 a.m. in Bloomington, for the Elite Eight matchup. The match will be televised on IHSA.TV.