Freshmen survival guide to high school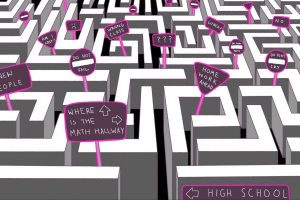 Futo Wada | Conant Crier
Sereen Hussain co-wrote this article with Iqra Iqbal.
High school. It is relentlessly made out to be one of the most intimidating places for incoming freshmen; everything prior to it is preparation for the experiences to come. Go in with confidence and a positive mindset, and you're setting yourself up for success. However, having a few fears or concerns going in is expected, especially with all the misconceptions about the experience. The media portrays high school as having excess amounts of drama and chaos that raise some red flags, but these fears are not at all what they are made out to be. We hope this compilation of a few of the most common freshmen fears provides reassurance and hopefully clears any existing stress about starting high school.
Fear #1: Upperclassmen
Some of the most common stereotypes about high school involve locker shoving, stolen lunches, and name calling. The relationship between upperclassmen and freshmen seems to be defined by torment in most TV shows and movies, but in reality that is definitely not the case. In many high school sitcoms, upperclassmen are depicted as rude and unapproachable, causing the freshmen to feel as though they should avoid them at all costs; this is a huge exaggeration of the high school experience.
Another common misconception is the separation between upper and lower classmen. While you may be in different grades, you will be getting to know sophomores, juniors, and seniors all throughout your freshman year, whether it be through a sport, club, or class. With many opportunities to make connections, don't be afraid to strike up a conversation. While seemingly intimidating, most upperclassmen are friendly and happy to welcome you to the school. It can also be helpful to have a friend in a higher grade because they can share their experiences and give you advice on anything you may be having trouble with.
The peer mentor program at Conant, known as PRIDE, provides all freshmen with the opportunity to ease into the high school experience through guidance from upperclassmen. According to PRIDE co-sponsor, Brittany Mendoza, "The freshmen will get to know their mentors pretty well and see that talking to upperclassmen isn't bad once they see they're just like them in a lot of ways." Over time, you will likely become comfortable around them, as upperclassmen understand the nervousness you're going through and are willing to help.
Fear #2: Getting Lost
Finding your way around school can feel insanely overwhelming. With the long, never-ending hallways, sudden turns, and hundreds of other students to push through, getting to class on time seems almost impossible. It may seem like a five-minute passing period is not nearly enough to navigate the maze that is your school, but it really is simple once you break it down.
At Conant, it is important to keep in mind that the school is divided by departments. The first floor consists of English, Physical Education, Music, Science, Special Education, Family Consumer Sciences, Applied Technology, and Student Services. The second floor consists of Math, Social Studies, World Language, Business, ESL, Art, and additional Science classrooms. Keeping this organization in mind will help in planning your route for getting to each class and keep you from running up a staircase to get to English class. If necessary, you can even download a picture of the school map on your phone to provide a little extra help.
Getting lost at school is not as intense an experience as it seems from the outside. Racing against the clock to get to class and having to squeeze past an overbearing crowd of students in a cold sweat is a definite exaggeration. "Everyone gets lost the first few days, so you won't stick out by being lost. Just take your time the first couple of days, and then you get used to it after a while," Mendoza said. Most teachers provide a "grace period" during the first week of school in which they dismiss any tardies in case of students losing their way to class.
Also, do not be afraid to ask for help. Staff members and students will be more than happy to help you get to where you're going and provide some guidance. In all honesty, even some upperclassmen are guilty of having to ask where a room is located.
Fear #3: Meeting New People
The idea of meeting many new people can be nerve wracking for a lot of incoming freshmen, but it also brings fresh opportunities to the table. Don't be afraid to jump in to the bustling environment that is high school–all it takes is a little courage.
TV shows and movies such as "Glee" and "High School Musical" often separate high school into very specific, exaggerated cliques. They portray these groups to be completely separate from each other, and most of the time, students in these different groups don't even know each other exist. In actuality, no student is limited by social standards to a friend group, so it is very easy to interact with new people on a daily basis. Not only will you meet other freshmen through your classes, but joining extracurricular activities is a great way to meet new people and try something new.
The key to meeting new people is to take that first step that other people aren't. "Don't be afraid to put down the phone at the beginning of class and say hi, or even think of a simple question to ask a classmate during class to start a conversation," Mendoza said. You'll find that meeting new people is lot easier if you have an open mind, which is perhaps your most important tool as a freshman.
Fear #4: Difficult Classes
Piles of homework every night night can be a student's worst nightmare. High school classes are meant to challenge you, but that does not mean classes are impossible and set up for you to fail. You will often see high school students in TV shows like "Riverdale" seemingly having no homework at all and a whole lot of freedom. While this does not in any way represent a real high school workload, you should not be worried about pulling all-nighters during freshman year.
As long as you keep up with assignments and keep track of what is going on in each class, you'll be setting yourself up for success. It is very easy to fall behind on homework, but you really just need to keep up with doing a little every night. You will find your classes to be much easier, and less stressful, if you stay on top of all of your assignments and projects.
At Conant, there are many resources in place to make sure students get all the help they need with their classes. In fact, they have an entire hallway, located near the team rooms, that is dedicated to tutoring and test make up. Students that need extra help with concepts in math, science, and English classes can go to this area of the school to receive tutoring throughout the year. Tutoring is also available in the media center before and after school and upon request with specific teachers. Using these resources makes adjusting to the high school workload for incoming freshmen a lot easier.
Extra Tips
Set your schedule as your phone lock screen; this will allow for quick and easy access.
Keep a planner to help stay organized and stay on top of your assignments.
Take advantage of extra time you may have at school to finish up homework and get studying done, which will allow for more free time at home.
Don't be afraid to go out of your comfort zone and try something new.