Racism is spreading with coronavirus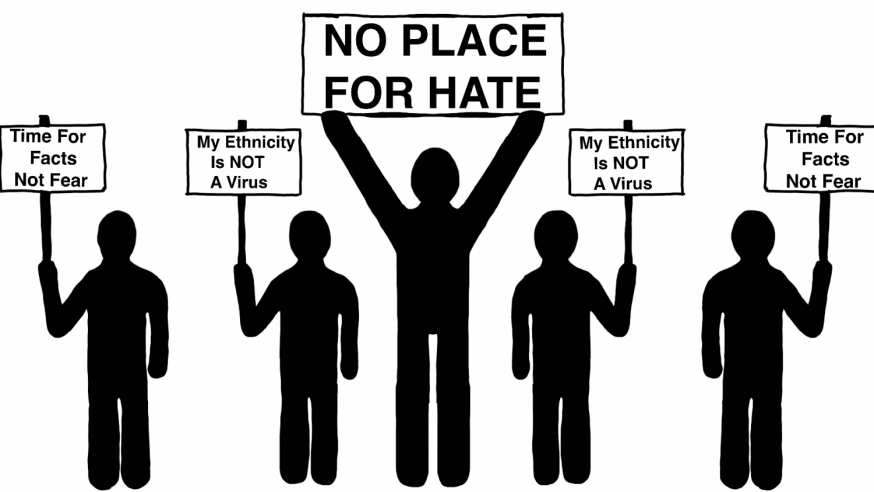 Abigail Denna | Conant Crier
Imagine a regular American citizen walking down the street. All of a sudden, someone walks up and harasses him for no reason. The man's crime: looking "Chinese" even though he wasn't. 
The coronavirus has claimed hundreds of thousands of lives and now, racism is affecting millions of lives across the country, an unintended side effect of the virus. We must stop these crimes from affecting those targeted American citizens. We can only change it if we stop focusing on politics and start focusing on people.
For example, with President Trump describing coronavirus as the "China virus", many Asian Americans have reported discrimination associated with these ideas, such as verbal harassment and abuse, even within the high school community.
A factor that fuels this racism is anger towards Chinese Americans for allegedly "starting" the pandemic. While this anger was aimed towards Chinese Americans, the victims have been people of Asian descent who look "Chinese".
One student, Irys Han, class of '23, said, "When we ordered food at restaurants, people looked annoyed at us. One person even asked my mom if she was Chinese while hesitantly making food." Han is of Korean descent and has also said that prior to the pandemic, she had not faced any incidents of racism. 
A study done by the Stop AAPI (Asian Americans and Pacific Islanders) Hate Youth Campaign, a national anti-hate organization that collects reports against discrimination of Asian Americans and Pacific Islanders in high school, stated that nearly 1 in 4 Asian American and Pacific Islander students experienced racist bullying. It's surreal knowing how this racism escalates over something that the victims can't control. This situation is similar to how it was after 9/11 when there were reports of hate crimes against Muslims. 
What's even more alarming, is that in the study's analysis of nearly 341 reports of racism and discrimination, nearly half of the adults involved in the hate crimes who could've possibly stopped the perpetrators didn't raise a finger. This is shocking considering that when I think of adults in these situations, I see them helping the victims. Instead, it seems that adults are becoming a part of the problem. This is ridiculous. These findings show just how much of a problem racism is in the high school community and gives us the initiative to figure out a solution and bring awareness.
If there's any doubt that this racism is a minor problem, this study has been conducted with the help of 1,000 Asian American young adults across the country. A lot of other hate crimes have been happening across the country as well. In one incident,  CBS Philadelphia has come across a video of an Asian American being struck down in the head with a traffic cone.  How can we allow the assault of random people on the road simply for "looking Asian" when they aren't the problem? We need to speak up and stop it before it goes too far and can result in even death. 
Now, these incidents have spread fear into the hearts of Asian Americans across the country.  Many are still scared. "Personally," Han said, "I would be very afraid, especially with my little sister. We love to go out and eat food or take walks. It would not be pleasant to know that we could be harmed physically or verbally for something we never even took part of."
In light of this, we need to help stop this racism and teach others to stop and think about how they can help instead of aggravating the situation in this chaotic time. The best possible solution that could be done is to bring awareness to this and to discourage this type of behavior towards people of Asian descent. Above all, though, we should stand up to those who perform this kind of hate. 
You can work with foundations like the Jeremy Lin Foundation and Stop AAPI to put an end to this violence. With the recent president-elect Joe Biden, we can hope for a new administration that will help calm down the racism that is engulfing our country. We hope that our future president knows that just because the virus is from China, doesn't mean it should be called the 'China virus' and help bring awareness. I hope that with the help of other people and foundations, we can bring an end to the racism problem in our country.