Teachers now able to receive COVID-19 vaccination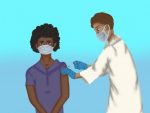 Christiana Kirov | Conant Crier

As days go on, more and more teachers in District 211 are getting vaccinated against COVID-19. Despite the fact that it is difficult to get an appointment, teachers have been looking for open spots and booking appointments as soon as they can.
Cook County started COVID-19 vaccination for group 1B on January 25,  teachers are included in the group. The general public above the age of 65, people with high-risk medical conditions, police officers, firefighters, and other essential workers are also included in group 1B.
To get the vaccine, teachers must find an available appointment and schedule an appointment on their website or by phone. Currently, vaccines are distributed via authorized pharmacies, hospitals, and state-run sites. 
Currently, getting a vaccination appointment is difficult because spots fill as quickly as they open. District 211 COVID-19 nurse Dawna Smeltzer said, "Right now, there is a limited supply of vaccines and it is tricky to sign up. There is no area for mass immunization, but more and more spots are opening as days go on."
Math teacher Stephen Kurfess shared his struggle booking an appointment. "There are so many people trying to get an appointment to get the vaccine," Kurfess said.  "Whenever I received an email or text from a friend telling me that there were open time slots, I immediately logged into the site, but the slots were already filled." 
Some teachers found appointments quicker than others. English teacher David Gwizdala, who has received the first dose, said, "The vaccine process was surprisingly simple. After I got lucky and found an appointment online, everything else went smoothly. I walked into Mariano's, found the pharmacy, let them know I was there for the vaccine, and within five minutes the shot was in my arm. They also already made my appointment for the second dose, so I am scheduled for that in early March."
Math department chair Derek Fivelson felt no pain receiving the shot, he stated,  "The shot didn't hurt at all. The only side effect was a sore shoulder the following day.  I'm looking forward to round two."
Even though vaccination is opening up to more people as time goes on, there is no current plan for student vaccination. Smeltzer states, "Nothing is planned for students, right now. Students age 16 or older with health conditions can get the vaccine in group 1C." In total, there are 4 phases 1A, 1B, 1C, and 2.
The CCDPH has more information on the county's vaccination plan.