Spain and France trip presentation encourages students to participate next year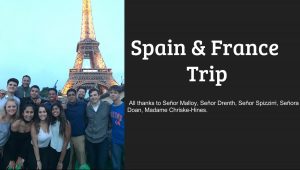 Allison Pariso | Conant Crier
Students who participated in the 2017 Spain and France trip are giving a presentation about it to world language classes on Nov. 17.
The presentations are in the auditorium during all periods of the day.
Over the summer, 35 students enrolled French and Spanish classes in the 2016-17 school year went on a trip to Spain and France. Five teachers from the world language department- French teacher Vicki Chriske-Hines and Spanish teachers Patrick Malloy, Heather Doan, Brian Drenth, and Anthony Spizzirri- went as chaperones.
The students spent a total of nine days in Europe, with four days in Spain and three days in France.
Chriske-Hines said, "The students were very prepared for the amount of activities and touring that went into the nine days. This included four flights and two different countries."
During the trip, the group visited many places such as the Prado (a museum in Spain), the Louvre (a museum in France), and the Eiffel Tower. They also got a chance to experience the culture, food, and language of the two countries.
Chriske-Hines said, "The students enjoyed the Plaza del Sol in Madrid and the boat ride in Paris."
The teachers saw it as a great way for students to apply what they've learned in class and were impressed at the students' desire to learn about the culture of the places they visited.
Malloy said, "For me, the purpose of this trip was to expose students to another culture and encourage them to want to continue their language study and travel in the future. It's a Spanish teacher's dream to see the students use their Spanish and want to live abroad."
Students who went on the trip were glad that they did, as it gave them a chance to explore famous places and experience different foods such as paella and chocolate with churros.
Maddy Osten, '19, said, "I really liked riding on the boat and seeing the Eiffel Tower light up. I thought it was a great, relaxing way to end the trip, and the view was absolutely beautiful."
Lauren Greene, '18, said, "My favorite memory was getting to taste the food. Especially the churros with chocolate because we learned about them in
Students were also given some free time during some days of the trip which they could use to eat, shop, or sightsee in small groups.
Cristian Hernandez, '18, said, "The best part of the trip was being able to meet new people and create everlasting memories and friendships."
Students expressed their desire to attend other trips like this one in the future.
Emily Ciolak, '18, agreed, "I think it was absolutely wonderful and very well planned, and I would not hesitate to go in another trip in the future."
Another trip is currently being planned for the 2018-2019 school year.
Chriske-Hines said, "We will be presenting a look at our travel program from CHS in order to create interest for the next trip during the summer of 2019."