Stuff your Thanksgiving with these holiday tips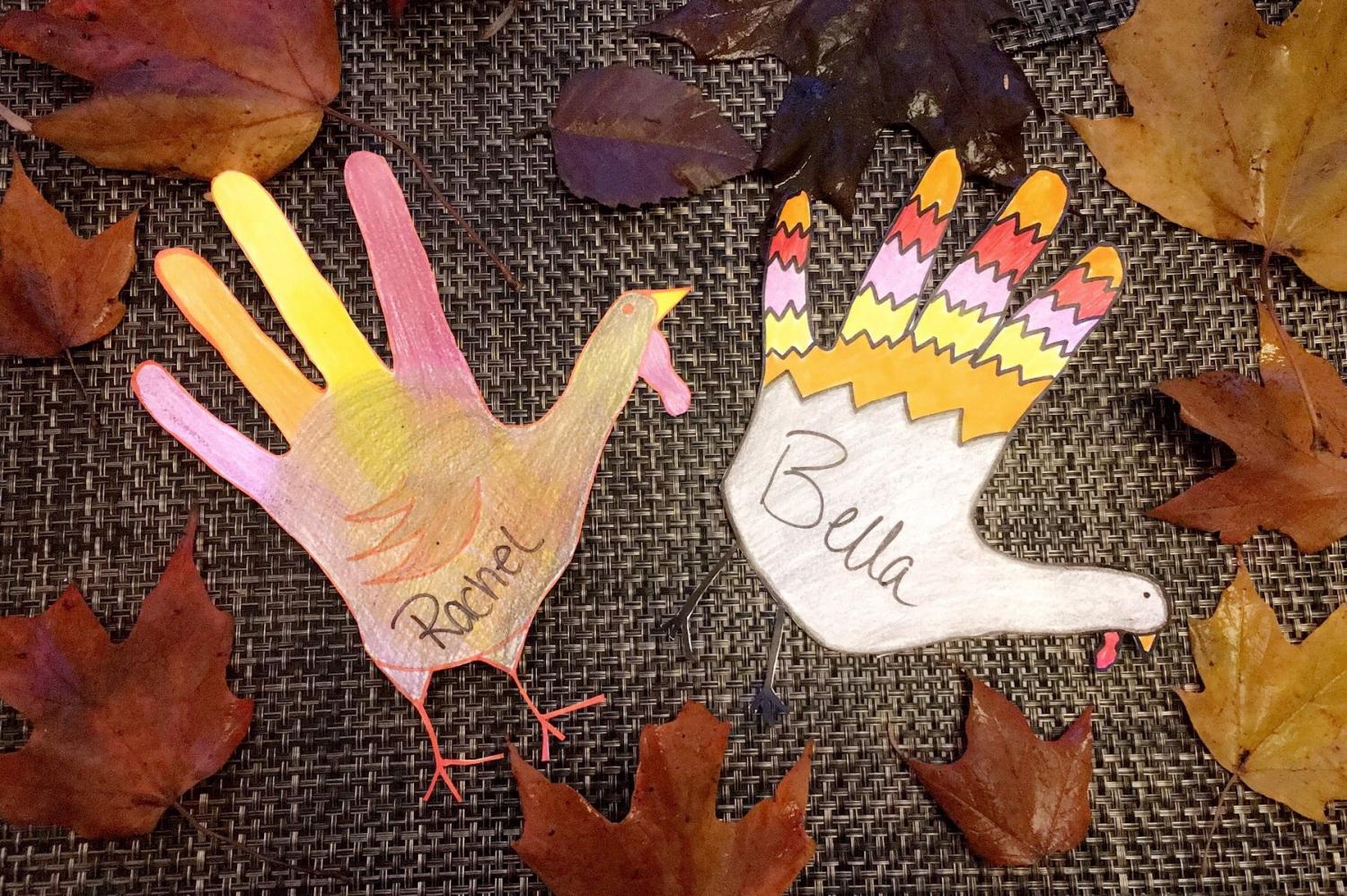 As Turkey Day approaches, it's time to start planning and preparing for a Thanksgiving celebration. Food, decorations, and activities all go into making this holiday special, but at the end of the day, it's all about enjoying time with family and friends and appreciating what we have. Regardless of how you celebrate, these tips and tricks will help you make the most out of November 23.
Turkey Place Cards
This fun and easy craft is perfect for a Thanksgiving keepsake. These turkey cut-outs can be used as place cards to be set on the table before supper or as decorations for your holiday party. All you need is your hand, colored paper, a pair of scissors, and a pen or marker.
Procedure:
Place your hand on a colored sheet of a paper of your choice and carefully trace around it with a writing utensil. Remove your hand and connect the gap where your wrist was resting.

Carefully cut out the shape.

Write the names of your guests on the center of the turkey cut-out.

Draw on eyes and feathers.
Tips:
If you don't have colored paper, you could use crayons, colored pencils, or markers to add some color.

You could make a family activity out of this to liven up the festivities, especially if you have young children in your family.
Below are two family recipes that are both simple and satisfying. The leftovers never seem to last very long! Feel free to pass these on as your own. We won't tell.
Cheesy Potatoes
Cheesy potatoes are a quick and tasty side dish that perfectly complement a turkey entree. This Thanksgiving staple feeds 8-10 guests, but you can always double the recipe to bulk up your Thanksgiving feast.
Ingredients:
2 lbs of frozen hash browns (cut up into squares)

1 can of cream of chicken soup

1 can of mushroom soup

1 pint/16 oz of sour cream

8 oz of shredded cheddar, thick cut

1 ½ sticks of melted butter or margarine

1 ½ – 2 cups of cornflakes, crushed
Procedure:
Melt 6 tbsp of butter and put it in a bowl. Set aside.

Save ¾ cup of corn flakes for topping.

In a separate bowl, mix the hash browns, corn flakes, soup, sour cream, cheese, and the remaining butter with a spoon or spatula.

Press and spread mixture in the 9 x 13 pan.

Mix the 6 tbsp of butter that was set aside with the ¾ cup of corn flakes and sprinkle over the top.

Bake uncovered at 325 degrees for 1 hour and 45 minutes.

Allow to cool for 10 minutes and serve with a spoon.
Ground Meat and Potato Stuffing
This dish, made separately or inside a turkey, is a family tradition passed down from my great grandmother. Every year, we look forward to gobbling up this filling and delicious treat.
Ingredients:
Note: This recipe is compatible with a 12 ½ pound turkey.
4 lbs of ground meat

5 lbs of potatoes

3 ½ cups of celery, chopped

2 ½ cups of yellow onions, chopped

1 tbsp of sage

1 ⅓ cups of breadcrumbs

1 tbsp of salt

2 tomatoes, diced

1 cup of grated romano cheese

Parsley (optional)
Procedure:
Cut and cube the potatoes, then boil until fork tender (the potatoes should be soft enough for a fork to stick in it, but still firm). Set aside.

Brown ground meat in a pan on medium heat and drain the grease in a strainer.

Fry celery and onions together. Set aside.

In a large pan or mixing bowl, add ground meat, potatoes, the onions-celery mix, bread crumbs, cheese, salt, sage, tomatoes, and chopped parsley (optional).
At this point, if the recipe is being used for a side dish, serve mixture as-is. The recipe can be used for half stuffing, all stuffing, or no stuffing at all.

If stuffing, pack loosely into turkey, fold skin, and sew the opening together so no stuffing falls out. Cook turkey as usual.
Additional Suggestions
Invite friends over for a "friends-giving"! Plan a day over the long Thanksgiving weekend to celebrate the holidays with your pals and cherish the friendships that you have.

Have your guests write down what they're thankful for, put the answers in a jar, and read them aloud after dinner.

If it gets too stressful to cook, just eat out or order in. The meaning of the day is in the sentiment of gratefulness, not the size of your banquet.

Eat your leftovers as turkey sandwiches, with gravy, cranberries, and stuffing as toppings.
Have a happy Thanksgiving! Follow these recipes and activities to fill your day up with as much fun as there will be food in your belly. May you be full, happy, and thankful this fall season.