"Feed" accurately portrays horrors of eating disorders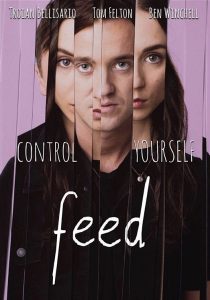 Image credit: http://www.imdb.com/title/tt5226512/
Eating disorders rarely are featured in entertainment, and the movies or TV shows that do shine a light on eating disorders often fall short displaying the seriousness of the illness. However, "Feed" is a well thought-out movie that shows the seriousness behind an eating disorder.
Olivia (Troian Bellisario) and Matthew Grey (Tom Felton) are 18-year-old twins. They both have promising futures in front of them, Matt the class president and Olivia the soon-to-be valedictorian. As they prepare for their last year of high school, a car accident kills Matt, and guilt-ridden Olivia must learn to persevere without her twin by her side. However, as Olivia tries to cope with her twin not being by her side anymore she starts to struggle with an eating disorder.
"Feed" does an excellent job of showing viewers the horrors of eating disorders and the difficult journey to recovery. Part of the reason why "Feed" is so engaging and accurate is because of the writer, Troian Bellisario. Bellisario wrote "Feed" based on her own struggle with an eating disorder. In an interview with "The Daily Mail," Bellisario explained she wrote "Feed" to make people understand that "control on a very, very literal level" is the reason behind eating disorders.
Watching "Feed" makes it much easier to understand eating disorders. The movie is directed excellently, and it does an amazing job of making watchers understand every aspect of the issue. After Matt's death, Olivia loses her friends and falls behind in school, and she believed that how much she ate was the only thing she could control. Bellisario's acting is inspiring as she makes you understand and empathize with a character suffering from an illness like anorexia.
"Feed" is stronger than other movies about eating disorders. For example, "To the Bone" is another popular movie centered around anorexia that came out in early 2017. It tries to lighten the mood, and instead of watching Ellen recover and get treatment, the film focuses on a romantic sub-plot, which feels like an insensitive way to address the matter.
"Feed" does a much better job at maintaining its focus on the main plot–anorexia. While "Feed" does show a romantic relationship between Olivia and a classmate, the relationship doesn't become the central plot. Also, "Feed" emphasizes to viewers that it's not easy to get help and that often times many patients continue to battle even after receiving treatment.
At some parts, "Feed" becomes difficult and confusing to watch. Following the car crash that killed Matt, Olivia starts battling with a "voice" that is telling her to not take in any food. However, her "voice" takes the form of Matt, and she starts seeing him everywhere, too. This causes confusion because Matt seems to reappear out of nowhere. It can also be confusing if, going into the movie, the viewers didn't know that anorexia patients have a "voice" telling them not to eat. The directors do a good job of explaining that towards the second half of the movie, but it can definitely be jarring to watch at first.
Overall, "Feed" is an entertaining and chilling movie that does a marvelous job of making people understand eating disorders.