Furious 7 hits the mark!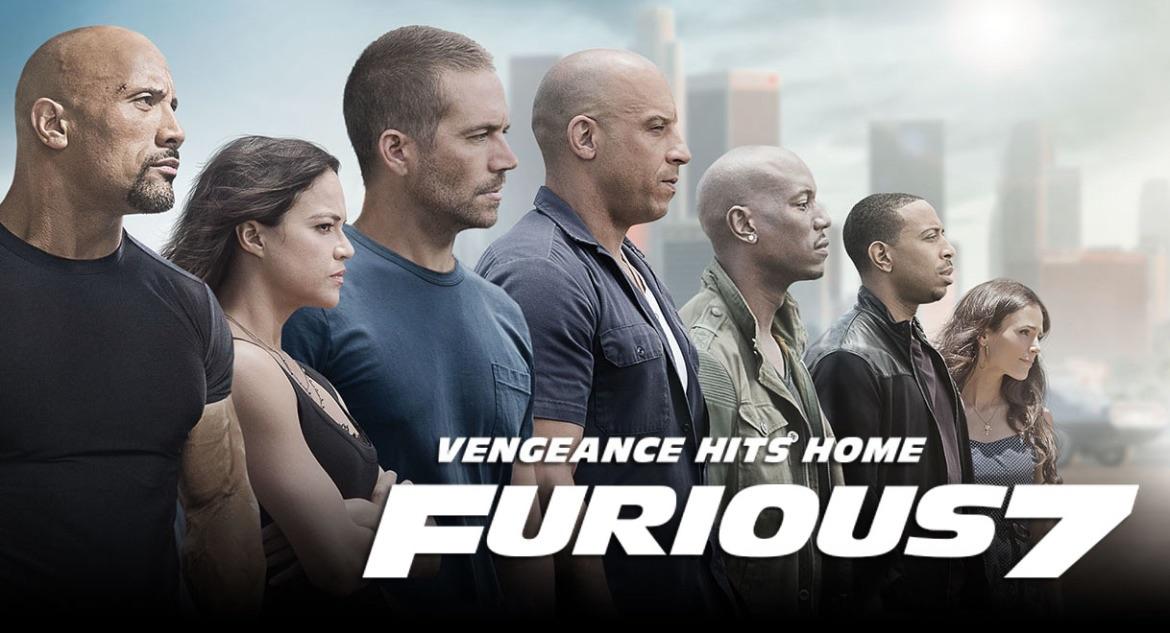 Fast and Furious. The movie franchise that went from street racing to Mission Impossible on steroids and somehow ended up making seven films totaling about $2 billion worldwide. But the thing about these movies is that no one goes to see them hoping for a serious Oscar worthy film. People go there to see outrageous stunts, expensive cars, and of course women in tiny clothing. The newest installment, Furious 7 delivers all of those things.
Furious 7 focuses on a man named Deckard Shaw trying to get revenge on the main characters for putting his brother, Owen Shaw, in the hospital in the sixth movie. In order to stop Deckard, Vin Diesel and company have to help out government officials get back a computer chip. As I mentioned, audiences don't go to see Fast and Furious movies for Oscar worthy plots; the plot is more of a background story. The action scenes are what people come for, and that's the best part of the film. Seeing cars fall from a plane and then parachute down gets the 10-year-old inside all of us very excited. While it goes against all logic, it is still an awesome scene to watch. The fighting scenes are also top notch; the filming was done so that the viewers can keep track of what's going on. The movie never leaves the audience bored. While there is a ton of action, even the simple scenes never fail to entertain the viewer.
The acting is pretty average, but that being said, the Fast and Furious movies don't need good actors. They need good action stars, and that's exactly what they have. Most of the dialogue is limited to no more than a few lines before something blows up. In terms of characters,  I loved how there was a computer expert who was a girl and Michelle Rodriguez's intense fight sequence. It's nice to see some strong female representation in a movie where the women are often portrayed as objects. There is also strong chemistry between the actors, and that helps makes this franchise stand out from the other action films. The fact that these actors have been together for 15 years really translates on screen, and they seem like a real family. You can't help but love the way they interact.
The ending of the film leaves audiences a little melancholy and moved. In the final scene Dom and Brian drive off and say good-bye. There's a montage of Paul Walker scenes and a voiceover by Vin Diesel saying a little anecdote and goodbye to Paul Walker. During the movie you almost forget the tragic event that happened to Walker since it's nearly impossible to tell the difference between the real Walker and the computer generated Walker. It's nice to know that Furious 7 did Paul Walker justice since it is officially his last film.
If you're willing to suspend your disbelief, Furious 7 is a really good popcorn film. The crazy stunts, Tyrese Gibson's stupid remarks, and Vin Diesel's belief in family really give the movie substance. The actors and filmmakers know that this movie is highly incredulous, so they're able let their imaginations go wild to create awesome, fun scenes.
Overall, I give Furious 7 2.5/5 stars because if you're there to have a good time and not get nit-picky, you'll definitely enjoy it!