MAMAMOO's new mini-album 'Travel' is Arabic inspired
MAMAMOO released their tenth mini-album, ''Travel'' under RBW entertainment on November 3. ''Travel'' is an extended play that includes the two previous successful single comebacks MAMAMOO had: "Wanna Be Myself" and "Dingga". ''Travel'' has six songs with "AYA" as the title track.
Since their debut, MAMAMOO has always had songs with different concepts, and this time, the concept is Arabic inspired. What's interesting about the "AYA" music video is that it had an Arabic melody. 
The music video starts with a catchy flute sound and transitions into husky strings with whispers and growling. The background of the music video is dark and the ground is full of sand, and in other backgrounds, there is fire all around which is similar to Arabic jalsah in Saudi Arabia.
Arabian Similarities Shown in the "AYA" Music Video Outfits 
For the outfits, the four girls change their outfits to different styles throughout the music video, outfits that highlight Arabic style. 
One example of this is in Solar's music video outfit, the leader of MAMAMOO, which featured a leopard jacket matching a leopard top and skirt with black boots. She had 2 gold necklaces and a gold bracelet. Her hair was pulled into a black, long, and low ponytail. Her makeup was bold with black eyeliner, thick eyebrows, bronzed foundation, and nude lip color. Solar's look, from clothes to makeup, follows traditional Arabic styles.
Moonbyul, the rapper of the group, shined with an Arabic royalty inspired look. She wore a knee-length black dress, a gold chain hanging from her neck to her waist, with round gold earrings, gold ring, and was sitting on a throne.
Wheein, the vocalist of the group, had black hair with black bangs that covered her smokey eyes with their deep blue color. She wore a black half dress similar to a Arabic abayas and matched it with a gold face-covering like a traditional Arabic face covering. She had gold palm accessories and gold rings which rich Arabic women tend to go for. 
Lastly, Hwasa shined with her tanned skin, smokey eyes with black thick eyeliner, thick brown lip color, long tiger pattern fingernails, and snake-like gold earrings. She wore a large gray fur jacket with a gold top and bottom. Hwasa had her long black hair tied into boxing braids to finish off the Arabic look.
Album Highlights
The concept of ''Travel'' is something new for MooMoos (fans of MAMAMOO), with more rap, dramatic dark audio, and upbeat music than before. "AYA" wasn't the only successful track in the mini-album; the other tracks were good as well. 
The first song on the track is "Travel". It's about traveling and finding the place to be comfortable in and call home. Or, as MAMAMOO explained it in their 'Travel LIVE TRACKLIST', "Life is where a heart-fluttering feeling and fear coexists like travelling." 
The next song is "Dingga" and it's about forgetting everything and having fun and partying. It's been four years since MAMAMOO did a retro song, since "You're the Best" era, and "Dingga" was an amazing song with an unquestionably fantastic retro style. The addition of the disco sound, funky clothes, dark plum lip colors, and 90's hairstyle all gave a lovely taste to the song! 
Another song in the track is "Chuck", a funky song, which has a message to stop showing affection to others when you don't want to and just leave when you want to. 
One of my favorites is "Diamond", a more sexy and mature song that is about chasing your inner beauty rather than outer beauty.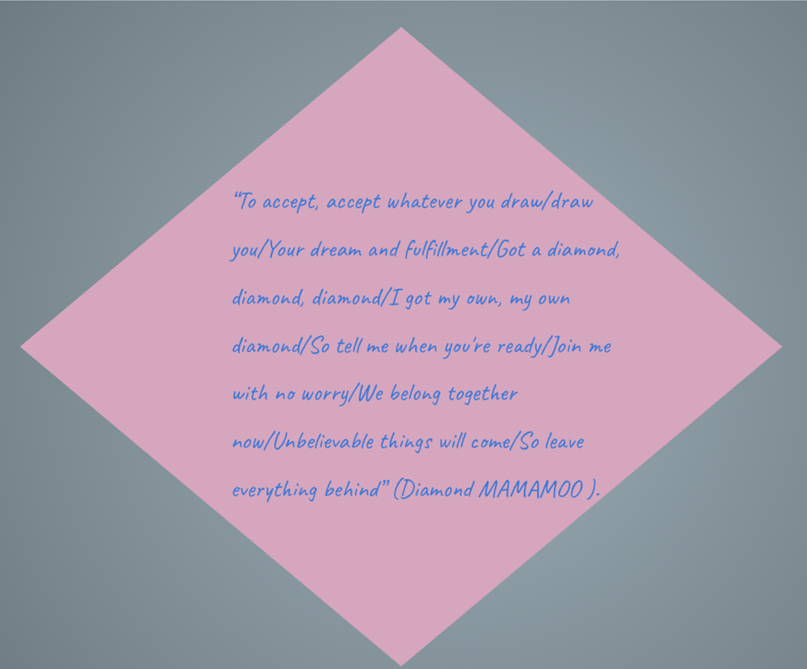 Munya Noman
And last on the track is "Good Night", which is different from the other songs with its soft ballad. 
Final Words
''Travel'' is yet another amazing mini-album from MAMAMOO that deserves so much attention because it's energizing, unique, and some of the songs promote self-love. The girls worked really hard to put this together, so in order to support MAMAMOO, stream "AYA" and watch their special comeback show "MAMAMOO Comeback Show: Monologue"!
Tracklist
Travel- same name as the album 
Dingga
AYA- title track
Chuck
Diamond
Good Night