'Midnights': The 3 a.m. view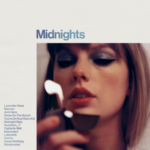 From Wikipedia under fair use.
Every Taylor Swift release has much anticipation, but "Midnights" has seemed to ascend even Swift's standards. Swift announced the album after winning Video of the Year at the VMAs in August. This led to months of theories, teaser TikToks, and cryptic messages, all in typical Swift fashion. The album follows the release of two of her re-recorded albums, "Fearless (Taylor's Version)," and "Red (Taylor's Version)."
The new album has been teased with 70s-reminiscent images and seemed to mark her return to pop after her most recent folk-style studio albums, "Folklore" and "Evermore." The album was marketed as "the stories of 13 sleepless nights scattered throughout" Swift's life.
Guest contributor Dana Melik and I will be sharing our reactions and commentary to Swift's tenth album.
Minnah Saif: So, the album starts off with "Lavender Haze." I love how it immediately marks her return to pop. She says she found inspiration for this song from an episode of "Mad Men" where they mentioned this term. It describes the uncertainty and riskiness of falling in love, a theme Swift has explored time and time before. I think it's a great opener and sets the tone for the rest of the album.
Dana Melik: Yeah, I definitely love the references to the 50s. The song has a very feel-good vibe and is very lighthearted. It also definitely reminds me of the "Lover" album. This song is definitely meant to be played in Forever 21.
MS: The second track, "Maroon," feels like a call back to her fourth album, "RED."  I love how she explores her lower register, especially in the last chorus. She goes back to New York, a common setting in her songs. This is currently my personal favorite.
DM: I personally think that "Maroon" is a continuation of "RED" and is her new perspective on this relationship after time passing. There are so many parallels between them that definitely can't be overlooked. It also draws back onto her song "New Year's Day" in the way she sings "wake with your memory" here and "hold on to the memories" in "New Year's Day." You may be wondering just what does this mean? The answer is: I have no clue.
MS: "Anti-Hero" is track three and the first single of the album. It definitely exemplifies the "upbeat with sad lyrics" pattern she has going on on this record. Swift has explained that the song is about her insecurities in not living up to people's expectations of her as a celebrity. It isn't a stand-out track for me. I think the lyrics were missing a depth Swift usually has, but I do enjoy it.
DM: This song is written towards her fans and really portrays her greatest fear as a celebrity. Swift expresses a guilt towards how much her fans need to defend her. The lines about her physical appearance actually made me want to cry a river. I actually love the lyrics in this song, but I hate how it's on the radio. No. Do not overplay.
MS:  Our fourth track is "Snow on the Beach"  with Lana del Rey.  I have been waiting for this track since it was announced. I may be a bit biased because I love Lana, but this is definitely one of my TOP tracks. The way the Christmas carol-esque intro translates into the imagery of snow is beautiful. It feels almost like a fever dream. While I do wish Lana had gotten her own verse, the impact of her artistry on the track is evident.
DM: LANA DEL REY LANA DEL REY LANA DEL REY. Beautifully written. Also do not get me started on the way Taylor sounds when she says "aurora borealis green." This song is the perfect preparation for the holiday season and feels like coming up for a breath of fresh air. It's worth noting Taylor's surprise in this man's requited love. This song still carries the insecurities that this album is really all about. This song has an extremely loving message, but there still are hints of insecurity and a feeling of not being worthy of love.
MS: Agreed. Track five is "You're on Your Own, Kid." Swift is known for her fifth tracks to be especially devastating, such as "Dear John" and "All Too Well," and this was no exception. This track mellows out from the previous tracks and explores how insecurity can be carried from childhood to adulthood. My favorite line is, "I hosted parties, I starved my body, like I'd be saved by a perfect kiss."  The vulnerability of that line is perfect, but I wish the song went on for perhaps one more verse to really hit that devastation. 
DM: FROM SPRINKLER SPLASHES TO FIREPLACE ASHES. I can feel the devastation. Taylor wrestles with an unrequited love and still never finds herself in this position of feeling worthy of love. This song just reiterates the messages of self-worth this album is about. In my opinion, this song is written to herself. All of her songs are constantly written for other people until she finally finds herself alone with her and her music. This song comes back to the comfort music serves for her and how she finds herself left alone with music. Finally, she gives herself the value to write a song to herself, to explore her own emotions in solitude instead of only crediting her talent to others' lives. 
The next track titled "Midnight Rain" is my favorite song on this album. Listening to this for the first time, it seemed as if Kanye hacked the song and warped it. Which, if you were wondering, is not true. There's this emotion of her being trapped just like she discusses in "You're On Your Own Kid." There's a lot of jealousy Taylor has with this lover for having this perfect ideal life while she's stuck in this constant cycle of self-destruction. The order of this track is no accident, and it shows her self-destructive mechanisms caused by her childhood, which her lover will never have to face. He seems content in the town he's in and his routine life, but Taylor wants more so she has no choice but to leave him behind. It's okay, Taylor, just shake it off.
MS: Exactly. I love the lyricism of this song. This is a repeating theme, putting success over starting a family and settling down. I'm not exactly a big fan of the production, but overall I like the song. Moving on to track number 7, "Question…?", this is Taylor writing about a past relationship and looking for answers, obviously. 
DM: "Obviously" is the worst word for this song. This song is pretty but it lost me: I did not grasp the meaning at all. The only thing I retained was that this is the opposite of "Midnight Rain." Instead of blaming herself, she confronts her ex-lover and searches for the answers. 
The next track we will discuss is "Vigilante S***," and I have many mixed feelings about this song. Overall, I love this song and it really channels the "Reputation" album. The first line, however, was a no. It had no lyrical value and was something quite literally taken from a tumblr coffee mug. You'll have to listen to yourself to see. It's also worth questioning whose marriage Taylor references. #GirlPower?????
MS: I second that sentiment. The line sounds like it was begging to be a catchy TikTok soundbite. The song is a bit too cheesy and on-the-nose for me, which detracts from the girl-power message. I like the themes, but maybe this song was meant for a different audience? I feel like I have to be in a certain mood to really enjoy the song.
However, our next track "Bejeweled" is like a breath of fresh air after "Vigilante S***." This song is similar to Taylor's lead single from "Lover," "ME!", and we all know how that went. They're similar in their themes of  "I love myself and I deserve better," but "Bejeweled" is much better executed. It's less on the nose than "ME!" but still has that fun pop sound that Taylor is known for.
DM: This song was confusing but here's my theory.  Just like "Vigilante S***," she goes out in her best look, but it still doesn't heal her. The emphasis she placed on the satisfaction of revenge falls short, and she's left putting on this show in "Bejeweled." This would make sense for Swift since her primary job as a celebrity is to go out and smile, no matter how life is treating you. Also, I love how she references auras and moonstones. Hippie Taylor? This song sounds like glitter. 
MS: Our track 10 is "Labyrinth," about falling in love and the fear she has of trusting people. It is a bit repetitive, but I love how she utilizes different tones to express fear versus acceptance versus embracing. The production could've been more exciting, but overall, I like the sound.
DM: I forget this song exists all the time, but I think it's pretty good. It sounds like it should've been in "Folklore" or "Evermore" or even the lullaby tracks.
Our next track is one of my favorites and it is "Karma." I love how lightheartedly this song presents itself. This song gives Taylor closure and a sense of comfort in knowing she did everything correctly. AREN'T YOU ENVIOUS THAT FOR YOU IT'S NOT. Also yes, where would Taylor be without a cat reference?
MS: Agreed. I thought "Karma" would be much darker and have themes of revenge, but it actually is about becoming a better person after going through bad experiences. I love that theme, and it is very fun.
"Sweet Nothing" is our next track and a complete 180 from "Karma." It is a much softer ballad, with its piano and light vocals. The song feels like it belongs more on "folklore,"  but still fits so perfectly with this album. It reflects on finding solace with small things with a partner or another loved one. I could only describe this song as comfortable. 
DM: The rhythm and lyrics are so strongly interconnected. As she sings the speed increases and a sense of breathlessness develops in her voice. This with the lyrics helps create this feeling of restlessness and anxiety in the need to prove to be enough. She eventually realizes that her lover is there with nothing needed in return, and her voice becomes softer during these moments of realizations. Taylor discussing being "too soft for all of it" completely shattered my heart. The ending of the song develops this feeling of stress again, but she eventually finds comfort in her lover and peace. I'm proud of you Taylor. We are rooting for you. However, let's question her fear of elevators? Alex Karev?
MS: On to our final track! "Mastermind" is the perfect closer and reflects the anxieties and overthinking that define this album–why she is staying up at midnight. She describes never feeling wanted, so she felt like she had to manipulate her relationships herself.
DM: This song completely shattered my soul. She wrestles with the effortlessness she is usually portrayed with and counters it with the constant and grueling effort she puts into being the pleasant person she is. She reminisces on childhood memories of loneliness and is able to finally connect her past experiences to her present insecurities in her relationship. Taylor when you obviously read this, we're here for you.
MS: Overall, I think this album is the most "Taylor Swift" a Taylor Swift album has ever been. It can be corny, it can be sad. The upbeat production tied to the sad lyrics makes each listen a different experience. Taylor expertly tied together her knowledge of pop production and her penchant for profound lyricism.
DM:  Minnah I completely agree. The lyrical aspect of it can not be overlooked, and this album served as a beautiful project and display of Taylor's insecurities and her emotions. This album tied together all of her other albums and really featured each and every wonderful part of all of them. If you're looking for a Swift album where you can experience every emotion, this is the album for you.