Pristin's new album and choreography lets us see what "We Like"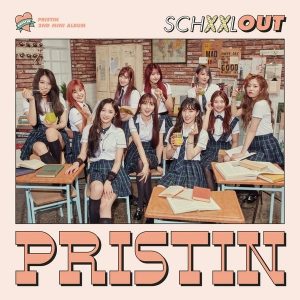 kpopmart
Pristin released their first album, and now, they're skipping school. Pristin's comeback album "SCHXXL OUT" released in August, following up their debut with a rebellious twist on their cliched school girls concept.
The most commendable feature of the entire album is that the Pristin members wrote the lyrics themselves. In the Kpop industry, it is common for singers to have "contributed to" songs, even if said singer merely said, "okay" to the lyrics or accompaniment. However, with Pristin and Seventeen (a brother group to Pristin) writing their own lyrics, it is possible for Pledis, the group's company, to gain a title as producer of "true artists."
In a strange move, "SCHXXL OUT" was released with two album versions, In and Out. The only difference between the versions was the album cover. In a way, the separate versions highlight the separate sides of the album, one being the rebellious, adventurous theme, and the other being the happy, carefree theme. Perhaps the idea was to cater to the aesthetic preferences of different fans, but it seemed pointless overall.
Along with the album, Pristin also released "We Like," their comeback single. Although the album's theme is skipping school, "We Like" definitely exudes the wrong vibes for any adolescent listening. The bold beats in the song make it irresistibly catchy. However, the lyrics take the perspective of a popular high school girl, who comes off as a delusional stalker rather than a confident go-getter as intended. Assuming that her crush likes her back, the girl in the song obsesses over the boy and vows to "make you mine." Knowing the story behind the lyrics makes for an awkward listening experience.
Despite the potentially controversial topics that Pristin introduces about skipping school, breaking into the mall, and getting thrown in jail, Pristin's "We Like" does produce a redeeming new trend. In South Korea, Kpop groups perform their album singles. While most girl groups trying out the schoolgirl concept in their music videos perform with aegyo (cute gestures) in their choreography, Pristin went for something different."We Like" is performed with confident, cheerful choreography that is easy to dance along to.
While the themes of "We Like" can be perceived distastefully, Pristin does promote confidence and freedom in adolescents. Such relatability with teenagers will lead to Pristin's inevitable success.