Sounds Good Feels Good: a feel-good album for anyone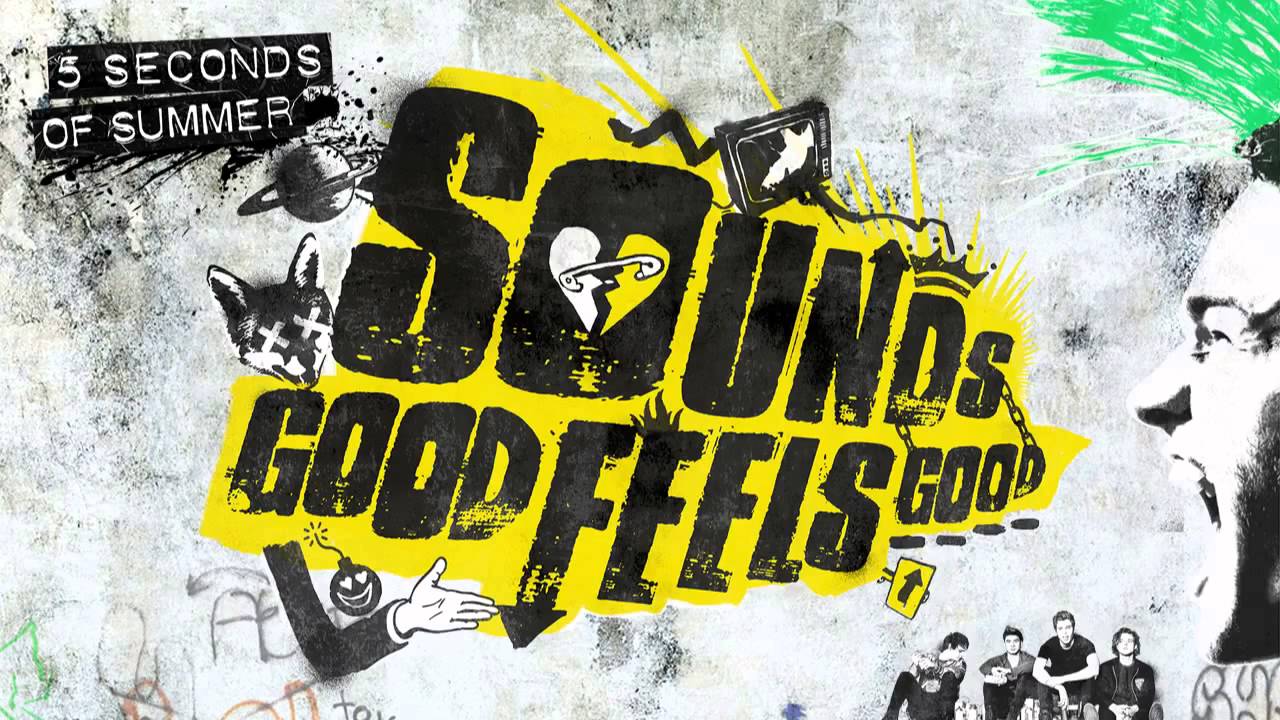 Graphic from YouTube
Starting from only a small YouTube account named "hemmo1996," the band 5 Seconds of Summer (a.k.a. 5SOS) have been globally topping the charts with their latest album "Sounds Good Feels Good." Consisting of bass guitarist Calum Hood, lead vocalist Luke Hemmings, drummer Ashton Irwin, and guitarist Michael Clifford, the band came out with their second album October 23.
After over a year of waiting since their first album "5 Seconds of Summer," fans were ecstatic to finally hear their new music. Along with two full-length albums, the 5SOS boys have also released a number of EPs (Extended Players). From uploading covers of songs onto YouTube to opening for One Direction during their Take Me Home tour, 5SOS now has fans all over the world and are performing their own world tours.
In their new album, the boys show off their musical knowledge with an angsty pop-punk/rock sound, different than the "pop boy band" they've been previously labeled as. As compared to their debut album, "Sounds Good Feels Good" not only explores the tragedies of teen love but also the hardships of growing up. And yes, the music does prove to be as good as the album's title suggests.
One of the strongest tracks that shows their changing tone is "Permanent Vacation." The boys played this song live in almost every one of their shows on their most recent tour, Rock Out With Your Socks Out, probably because it's a fun song anyone could rock out to. With its rebellious lyrics and punk rock sound, the song also displays the Green Day influence in the album.
Another strong track is "Outer Space/Carry On." This track is technically two songs in one, perfectly musically choreographed as it starts off with "Outer Space" and has a brief intermission before continuing onto "Carry On." A song like this is typically difficult for any artist to pull off, but the boys did it, and quite beautifully, too. Both parts of the song start off with a calming tone and then speed into guitar riffs with a balanced combination of guitar, bass and drums in the background. The raw tone in "Carry On" adds to the track, as not only is it strong lyrically, but also vocally.
The song "Castaway" is another great example of their new punk-rock sound with the album's overall rebellious tone displayed in lyrics such as, "Young love, close the chapter, there's no ever after." This track proves to be one of the best upbeat songs in the album with edgy guitar chords and drum notes that are inspired by My Chemical Romance's "Teenagers."
In terms of vocals, "Jet Black Heart" and "Vapor" stand out the most. Clifford's voice in "Jet Black Heart" is a tearjerker and complements the dark and heavy guitar riffs. In "Vapor," Hemmings' vocals are also outstanding as they suit the hazy and heart-wrenching feel of the song.
The most important tracks lyrically are "Broken Home" (included in deluxe edition) and "Invisible," the two slower tracks in the album. Seeming to be very personal to the band, "Broken Home" delivers the idea of a broken family and the feelings that a child goes through as they grow up in a family that is split, and the emotions that spring from this painful experience. "Invisible" has a ballad-like style and presents the feeling of being completely alone and invisible. These two songs are very dark and deep in meaning, but important as many fans with anxiety can relate to them.
There are several weak songs in the album. For example, "Airplanes" is very catchy but has a repetitive tune in the chorus, and "Hey Everybody" could have been improved lyrically. Other tracks from the album include "Money," "Catch Fire," "Waste the Night," "Fly Away," and "The Space Between A Rock And A Hard Place."
Overall, the album has proved to be something new and intriguing with a great balance of slow ballads and fast-paced, punk-rock songs. 5SOS has shown their ability to grow musically and hopefully the band will continue to offer exciting music to the pop-punk world.