Ranking all of the songs 'From the Vault' on Taylor Swift's re-recorded version of 'Red'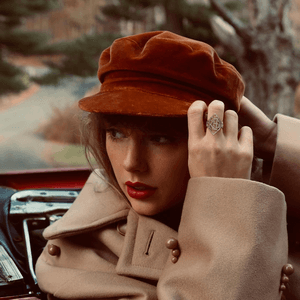 From source under fair use
Taylor Swift's musical journey is starting to circle back to her roots with the recordings of her old albums. Though it seemed that she was turning into a generic pop star upon the release of "1989", "Reputation," and "Lover," Swift proved her extraordinary musical ability with her refreshingly unique surprise sister albums "Folklore" and "Evermore." On top of that, ever since she re-recorded "Fearless" and announced that she was re-recording her album "Red," fans have been excitedly anticipating the release of the singer's old classics. Swift is not only re-recording all of the music that was on the original album, but she also surprised her fans with nine songs that were almost released but never made the cut, dubbed "from the vault." Read on to see my ranking of all of the "vault" songs on Swift's re-recorded version of "Red."
"Babe" reflects the overall musical genre experimentation in "Red," falling into more of a crossover between pop and country. Though it's catchy and filled with bouncy, vibrant vocals, "Babe" screams generic pop breakup song (but with a lot less vengeance and a lot more sparkle). Maybe it's the excessive repetition of the title, but the delivery falls flat compared to the other "vault" songs. Nonetheless, I have to say, Taylor's soft, delicate voice is much better suited to this song compared to the original "Sugarland" version. Though "Sugarland" has a unique, sharp tone, I think that Taylor pulls it off better. 
Swift may be notorious for her songs about her experiences with love. However, "Forever Winter" follows Swift watching a loved one undergo mental health issues, and fans have speculated that her brother, Austin Swift, is the subject of the song. Though the melody may be bright and colorful, the lyrics are anything but. "Forever Winter" highlights the struggles and complexity of mental health, and Swift's voice manages to capture the emotional impact of watching a loved one undergo something as grave as mental struggles. However, although I really want to rank this song higher on the list, the indescribable, magnetic quality that pulls me to her other music was simply missing. I might have ranked this song higher if the instrumental aspect brought "Forever Winter" together in a way that accentuates the meaning behind the song. 
"Message in a Bottle" is very poppy and sparkly, with almost an electric beat running through the song. Though it's very charming and catchy, I feel that musically, there is too much distracting from its underlying introspective quality. Taylor Swift herself said, "Songs for me are like a message in a bottle. You send them out to the world and maybe the person who you feel that way about will hear about it someday." She writes her music, knowing that though most wouldn't understand her experiences, there would be someone out there who would appreciate and resonate with her music. "Message in a Bottle" is about Taylor hoping that her song will reach her crush and that though they live miles apart, he would come across the song and feel a connection with her. 
"The Very First Night" completely caught me by surprise. I was not expecting this song to be so upbeat and bubbly, but listening to it gives me a sudden burst of energy. A continuation of the common theme of heartbreak in "Red," "The Very First Night" depicts Taylor reminiscing about her past relationship and wishing that she could go back in time to go back to her ex. Though the song was catchy and the story immersive, what makes this song memorable is Taylor's enjoyment. Even without seeing her, I could hear her smiling and sense how much she relishes the moment. Honestly, it just gives off "car playlist" vibes. 
With its light, humorous lyrics and soulful vocals, "I Bet You Think About Me" kept me on my feet the whole time. Swift makes small jabs at her rich, elitist ex, who grew up in Beverly Hills, contrasting his life to her modest roots. However, she contends that though their backgrounds were on opposite sides of the spectrum, her ex must still be thinking about her and the love that they had. "I Bet You Think About Me" features Christ Stapleton, but he solely serves a supporting role to Taylor, adding more of a soulful depth and texture to the music. It sounds much more like Taylor's pre-pop era, playing on the distinct style of her old classics with its trademark country twang. The more I listen to it, the more I love it.
This song's a little different: though "All Too Well" was released on the original album, Swift released the full 10-minute version (along with a short film), including everything that she was advised to cut. It's incredible to see how much her voice has matured throughout the years, but what really stands out are the bitter lyrics. Swift mentioned that she was feeling broken that day, so all of her pent-up feelings were expressed in the song. She pared the original down significantly, but I love listening to how unfiltered the ten-minute version is. It adds a quality that makes the song more personal and powerful, and I love it more every time I listen to it.
I'll be honest: I'm a huge fan of the Sheeran/Swift combo, so unlike many other people, I love "Everything Has Changed", which like "Run," features Ed Sheeran. "Run" is more like an elevated version of "Everything Has Changed": the duo's voices mesh better, the lyrics are more meaningful, and the overall experience is more intimate. With rustic instrumentals and breathy vocals, "Run" falls closer into Swift's recent venture into the world of indie music than the pop/country style in "Red." Describing the desire to escape the judgmental eyes of society to be alone together, "Run" follows the same theme as several of Taylor Swift's songs, namely "Love Story." The beautiful harmony between Sheeran and Swift and the uplifting musical composition take the song to a whole new level. 
Taylor Swift is the original songwriter of "Better Man", but she gave the song to "Little Big Town," believing that they would be better suited for the song. Both artists flawlessly executed the regret and wistfulness of pining for a former relationship that was toxic, and perhaps, even abusive; however, the emotion in Taylor's voice plays perfectly with the musical ambiance and sucks you into the story. The soft, cascading vocals build up through the ballad, giving "Better Man" a rich, dreamy composition that is impossible to get tired of. 
If you told me that "Nothing New" was a part of "folklore" or "evermore," I would have believed you 100%. I might be a little biased, especially considering that "folklore" is probably one of my favorite albums of all time, but in my opinion, "Nothing New" is by far, the best "vault" song on "Red." It's so simple, yet such a masterpiece: the strumming guitar and crooning vocals parallel the woodsy, forestland fairytale vibes in "folklore." Phoebe Bridgers and Taylor Swift are absolutely the duet we've always needed, and both of their individual perspectives really shine through this song. "Nothing New" explores societal expectations, as Taylor is beaten up and degraded, over and over, no matter what she does. Throughout the song, Swift ponders on why it seems like she knows less about the world the more she grows. "Nothing New" is absolutely perfect, and I don't hesitate one bit to make it the number one song on this list.