Dominic Demore Receives Eagle Scout Promotion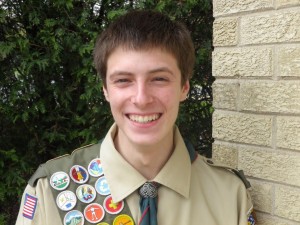 Dominic Demore
It is important that boys begin learning life skills from a fairly young age, and the Boy Scouts is a perfect program to jump start this process. One of Conant's very own seniors, Dominic Demore, has many years of experience in this program and has recently received his Eagle Scout promotion. He has been in Boy Scouts for 12 years now, since 6th grade. This is a big deal because it takes a lot of work to achieve such an honor. Now he has more clinics to chose from, he can also attend more ceremonies, and the most important thing–he has achieved something for himself and now can be even more of a leader than before. To earn his Eagle Scout honor, he had to pass a multitude of tests that focused on life and survival skills.
Crier
got the chance to interview him and find out a little bit more about his journey to becoming an Eagle Scout.
Crier: Why did you want to become an Eagle Scout?
Demore: Because I want to be a person who others look up to. I feel that being an Eagle Scout will help me get there.
Crier: What is an "Eagle Project," and what did you do for yours?
Demore: The Eagle project was a project that we have to do in order to receive our Eagle promotions. For this project, we would have to do something that benefits the community, benefits me mentally, and shows leadership. For my project I built a sensory garden for a disabled preschool. It took me approximately two days to build and two days to install. I got the idea because I knew I wanted to do something with special needs kids and something that they would thoroughly enjoy.
Crier: Did all the time and effort you put into getting your promotion affect your school life?
Demore: Well it did affect it a bit towards the end when I was eager and rushing to get my promotion. I had to manage my time really well, and I had to shift my schedule around quite a bit.
Crier: What is your favorite thing about being in Boy Scouts?
Demore: I think my favorite thing is teaching the younger students and helping them get their next merit badges and four rank advancements because it makes me feel like a leader, and I really enjoy that.
Crier: What was ones of the coolest  things you had to do?
Demore: I think it was achieving my cooking badge, which was my last merit badge. I know that sounds silly and easy, but it's just that there was pressure to get it done before I turned 18. But I like to cook either way, so it was pretty cool.
Crier: What's one of the craziest stories you have from being a Scout?
Demore: Probably when I went to the Florida Keys and got stung by a jellyfish while snorkeling. It was really unexpected and strange.
Crier: What is some advice you have for Boy Scouts aspiring to be Eagle Scouts?
Demore: Just to be persistent and keep going no matter how tough it gets because the end result is really worth it.
Crier: What's the next step for you?
Demore: Just to apply what I learned in Boy Scouts and basically be a good person like they taught me to be.