A successful formula: Conant math teacher shares process of writing a novel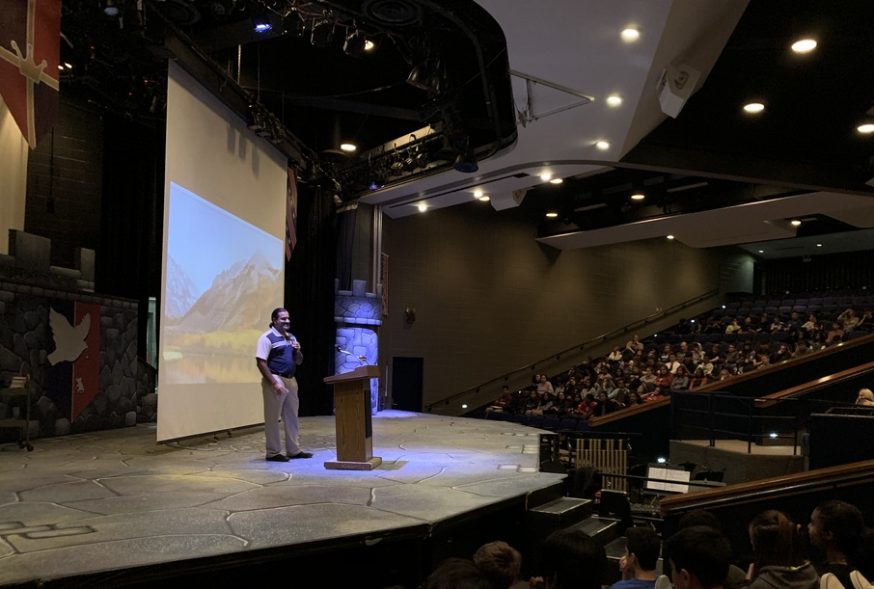 Katherine Sall
A Conant math teacher spoke about his self-published book and the process that led to its creation at Conant's second annual Author Day on November 1.
Patel teaches AP Computer Science Principles, AP Statistics, and Multivariable Calculus. Since most students only know him in this context, finding out that he wrote a book was a big surprise. 
"I didn't expect it at all. It's really interesting that he had an idea and worked with it until he created a meaningful product," Anika Palkhiwala, '21 said. 
In explaining his motivation to write, Patel said that ten years ago, he taught Sunday school to first and second graders. Teaching them gospel lessons was difficult because most kids got bored very fast. He also explained that he would read the "Harry Potter" books to his children every night before they slept and they always wanted to hear more. 
"There wasn't something as interesting as a Harry Potter book for religious education," Patel said. This realization is what inspired him to start writing "The Joy of the Lord."
November is National Novel Writing Month, and in 2013, Patel used this annual tradition as motivation to write 150,000 words for his book. After November, the editing process began. Patel told Conant students that everything he wrote had meaning, writing in the hopes that the readers would feel something. 
"It's not going to be complete in a few months. I did a ton of learning about writing; there was the art of writing a story, good dialogue, and I even found out adverbs are considered weak in professional writing," Patel said. After nine months of friends and professionals editing his book, it was ready to be published. 
Patel's book can be found on Amazon under his pen name "Mark Andrews." He writes under this name because he wants people to appreciate his book for its contents rather than judging it based on what they think of him as a person.
"You have to have really thick skin to post anything on Amazon," Patel said; he received criticism on how his book doesn't include enough descriptive scenes and has more dialogue instead. 
When asked whether he regrets writing his book this way, Patel said, "No. [When reading], I always skip over all the descriptive stuff in books because I care more about how characters develop." Similarly, students said they liked the straightforwardness of Patel's presentation at Author Day.
"I really enjoyed how Mr. Patel was very clear on why he wrote the book and explained his process. Most people get to read the end result [of a book] but don't really get an explanation on how it was written," Vishal Prabhakaran Veera '20 said.
For those interested in writing, Patel's advice is to just write. "Nowadays, you can write anywhere and throw out idea after idea in a bunch of memos on your phone. The logistics of compiling it together comes later," Patel said.